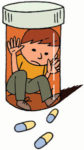 KARA has been reporting and speaking on critical issues impacting abused and neglected children for many years.
This article submitted by long time CASA guardian ad Litem Mike Tikkanen
Share this important information with your social media and
let KARA know your stories and perspectives.
6.4 million American youth are diagnosed with ADHD.  This article from ACEs Too High by Rebecca Ruiz makes clear the overdiagnosis of ADHD and underreporting of childhood trauma.  This goes a long way in explaining the overdosing of youth in foster care with psychotropic medications and giant fines paid by big pharma for illegally selling these drugs to pediatricians for use on very young children.
ALL ADULTS ARE THE PROTECTORS OF ALL CHILDREN