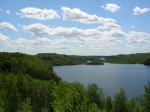 My story is triggered by a graphic demonstration of malfeasance by a public servant (Harper's Magazine article below) and my response to conversations with Brandon Stahl at the Star Tribune and a former administrator at Hennepin County.  Both told me how inaccessible important child protection public records become when someone decides for no good reason to not share public records.
In my video interview with Brandon Stahl, he stated clearly how County Records that should have been available to him in the tortured death of Eric Dean were stonewalled, deliberately delivered over months instead of days or weeks, made expensive and hard to get in his reporting for the series he wrote for the newspaper.
Remember, the boy was dead and this reporter needed only to gather the history surrounding how the boy died.  The poor child deserved to have his story written.  We would be far worse off as a community and abused and neglected children would be facing a far worse future if Brandon had not written these stories.
My administration contact made it clear to me years ago that sharing information or creating an atmosphere of transparency was the last thing going to happen in social services in general and child protection specifically.  Yes, there are many practical sounding reasons for this but most of those reasons are specious and protect only the people not wanting the information out (Dee Wilson made this statement when he delivered the Casey Foundation's report to the County Commissioners on Minnesota's Child Protection Services – calling these excuses for a lack of transparency a "Red Herring".
Below and linked above is the slow walk email correspondence of an administrator deliberately making it impossible for a reporter to gain access to what should be readily available public records.  It would be funnier if it happened in some third world country and not here.
ALL ADULTS ARE THE PROTECTORS OF ALL CHILDREN
Details