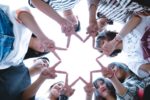 The State of Arizona just lost seven million dollars in legal fees fighting a lawsuit demanding better care for foster children. The good news is the State lost.
It's a tiny victory though.  Arizona, like Texas, Alabama, Oklahoma, New Mexico, Louisiana and a few other states, have long sat at the bottom of child well-being statistics in the U.S. 
Abused children don't have much power in America today. At a Federal level, they don't have many rights either as America is the only nation in the world to not have ratified the United Nation's Rights of the Child Treaty of the 1980's.
Children have no voice in their homes, the media, courts that rule their lives or the State House.
It hurts me to think that there are states that would rather spend almost seven million dollars fighting against making life more bearable for their most troubled and vulnerable young citizens than using those wasted dollars to provide resources and healing for them.
It's worse yet to think that in some states, lawyers or the threat of lawsuits, accomplish more for the well-being of at risk children than the people in charge of making public policy to safeguard their children. Please share this – especially if you live in a state where things are bad for at risk youth.
KARA reports on the issues of child well-being
All Adults Are the Protectors of All Children (thank you Don Shelby)
This article submitted by CASA volunteer Mike Tikkanen
Public Service Announcement( 30 Second)
Arianna Hunziker was "starved, dehydrated, bound, immobilized and abandoned in a home littered in trash and smelling of of urine".  Foster parents Sherrie and Bryce Dirk went to prison for murdering Arianna.  There is something terribly disturbing about a State sanctioned foster family killing a two year old State Ward child that needs to see the light of day.
The lawsuit in today's paper points out that another MN community is having a hard time with either the resources, training or protocol for keeping at risk children safe.  Being a foster child should not be one more horrific encounter with child abuse.  It's plenty hard when your birth parents make your suffering so bad that a judge removes you from their home to place you with a family you have never seen before.
It's easy to blame and hate the people involved in her care but it solves nothing.  The problem we have as a community is systemic and bigger than the people involved.
Arianna had been sedated with drugs we are not allowed to know about.  We do know that in 2014, 20,000 one and two year old children were forced onto psychotropic medications – the same year big pharma was fined (and paid) billions of dollars for illegally selling these drugs to pediatricians for use of young children.
Perhaps, the system is overwhelmed, or maybe, Arianna was on a list to be visited by a caring adult soon.
Can you imagine what Arianna's life must have been like?
Remember, she was taken from her birth parents because of what happened to her in the home and put in the custody of the Dirks where she was starved to death.  Her whole life was sadness and torture.
Just a few years ago 6 year old foster child Kendrea Johnson suicided by hanging very near where Arianna died and four year old Eric Dean was slowly tortured to death even after 15 reports of abuse by mandated reporters.
Kendrea left a note, told many people her thoughts about suicide and homicide and she was seeing a therapist (Eric couldn't write).
Is it because we the people cringe at and avoid this conversation that these children suffer the traumas, terrors and torture that happens daily to children throughout our communities?
Pre COVID, 37% of America's children were being reported to child protection agencies by their 18th birthday.  Generational child abuse is a public health problem that needs public discussion and better answers.
Is it possible that the millions of dollars in fines and awards from lawsuits in the deaths of foster children could better have been spent on more resources, training and support for social workers and foster families?