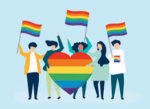 Kids At Risk Action writes and reports on child abuse issues
& provides a passionate voice for at risk children
All Adults Are the Protectors of All Children
KARA Public Service Announcement (30 seconds)
KARA Signature Video (4 minute)
Support KARA's Public Service Announcements
Domestic Violence Resources (national and international)
Trauma Informed Resources During Covid19 Quarantine
National data on LGBTQ kids in foster care is very hard to find.
Recent surveys by the Casey Foundation and the NY Administration of Children's Services show that about a third of kids in NY's foster care identify as LGBTQ and nationally, about 24% do.  40% of homeless kids in NY City identify as LGBTQ and 42% of them had been in foster care.
This NY Times article focuses on how hard life is for them.  Many of these youth and children are in foster care because their parents rejected them.
Many are homeless, depressed and leading dysfunctional lives.
Every year about 12,000 children aged 5-14 years old are admitted to psychiatric hospital units for suicidal behavior. This and all the information following are PRE COVID.
Young children who have attempted suicide are up to 6 times more likely to attempt suicide again in adolescence (Tishler, 2007, p.812).
Numerous studies suggest that the number of children who die by suicide is higher than the reported figures
There is no data for destructive behaviors like cutting or apparent attempts for serious self-harm among foster children.  If you know at risk children, this information may help you save a life.
Suicide is the 4th leading cause of death among children between the ages of 10 and 14.
Alaska has the highest rate of teen suicides
In the past 45 years, the WHO says, suicide rates have increased by 60 percent worldwide and it predicts these deaths will rise to 1.5 million per year by 2020.
The worldwide statistics, of course, do not address the difference between suicides of foster Children
Adolescents who had been in foster carewere nearly two and a half times more likely to seriously consider suicide than other youth (Pilowsky & Wu, 2006).
Adolescents who had been in foster care were nearly four times more likely to have attempted suicide than other youth (Pilowsky & Wu, 2006).
• Experiencing childhood abuse or trauma increased the risk of attempted suicide 2- to 5-fold (Dube et al., 2001).
• Among 8-year-olds who were maltreated or at risk for maltreatment, nearly 10% reported wanting to kill themselves (Thompson, 2005).
• Adverse childhood experiences play a major role in suicide attempts. One study found that approximately two thirds of suicide attempts may be attributable to abusive or traumatic childhood experiences (Dube et al., 2001).
Suicide is a real issue in foster care and one we should not dismiss lightly. This is not a matter we are willing to discuss until we read stories of foster children like Gabriel Myers, a seven-year-old Florida boy who hung himself in his foster parent's house.
Suicide is the 3rd leading cause of death in New York for children 5-15 years old
Teen Suicide have increased 56% since 2007.  Children in foster care suffer far more self-harm and suicide than other children.
What would you say to the 12 year old foster child who told you how he plans to suicide by cop?  Or to the mother of the young girl you speak for in court that told her child "I wish you'd never been born"? Kendrea Johnson was 6, Gabriel Meirs was 7
and Zakiah Satterfield was 9 when they suicided.  These are just a few of many attempts.  We only know about the successful attempts.
Words don't come easy.
This survey of 12,000 LGBTQ youth identifies the extreme stress, anxiety, rejection and overwhelming feeling of depression and danger these children grow up with.
70% of them have been depressed and felt hopeless in the last few days &
95% of them have trouble sleeping.
74% of them do not feel safe in the classroom
5% say their teacher are supportive of the LGBTQ community.
The vast majority of them report family members saying bad things about LGBTQ people
At least 22 transgender people have been murdered in 2019 (their stories)