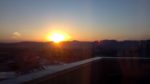 Friends of KARA,
Yesterday, KARA's best friend and founding board member Joe McCarthy passed away after a long illness.
We will miss him terribly.  Joe had a big heart and remarkable mind.  He was sharp as a tack with an interest in everything and a stunning memory.
20+ years ago, Joe encouraged and then guided me through the writing of the INVISIBLE CHILDREN book and founding of our nonprofit Kids At Risk Action.
Our small board spent many hours sorting through issues and ideas for making life better for abused and neglected children.  We worked together to create our first board meetings and involve more people in the endeavor we are so passionately engaged in today.
Joe wrote and published the PR piece carried on Associated Press that brought KARA national attention when we spoke at the United Nations (just one of hundreds of things he did for KARA).
His past was more interesting than most.  Joe was part of the team that created the Pillsbury Dough Boy. It's a very sweet story about how the Dough Boy came to be.
Joe was a teacher and military rescue pilot as a younger man. He was the PR guy for Dayton's in the twin cities before starting his own shop. Joe's organization Pinnacle World Wide grew to multiple PR locations in over seventy countries.  He and his wife Lynn travelled the world for a living.  They were a powerful team that worked together on multiple civic and nonprofit projects that have made good things happen for many people for many years.
Kids At Risk Action was just one of the many wonderful things that Joe helped to build in his lifetime.
Joe was always in demand.  We were lucky to have him.
Goodbye Joe.
Thank you all for your energy and efforts for KARA.  We are fortunate to have friends so engaged and so passionate in the cause we are working on.
Best wishes,
For the KARA team,
KARA board member Mike Tikkanen
McCarthy, Joseph Michael 84, of Wayzata, MN passed away peacefully in the arms of his loving family on November 2, 2020. Joe was proud of his family, his Irish heritage and Cincinnati, where he was born on New Year's Eve, 1935, the only child of Alma Elizabeth Dempsey and Joseph Lawrence McCarthy. He is survived by wife Lynn and their children, Teresa (Steve Hanson); Brian (Jennifer); Patrick and grandchildren Maura, Ronan, Luke, Ciera, Quinn, Joseph, Conor and Molly. He also leaves behind his faithful furry friends, Marci and Hercules. Joe earned his bachelor's degree in history and master's in political science from Xavier University, whose Jesuit influence remained with him throughout his life. After teaching high school history, he married his college sweetheart Phyllis (Lynn) Hotopp in 1958 in Mt. Washington, OH and began active military duty at the US Army Air Defense Center in El Paso, TX. He achieved the rank of Major and received the highest peacetime commendation for outstanding service to his unit. Joe then held corporate communica-tions positions at Mead Johnson, Eli Lilly, and Pillsbury before joining Dayton Hudson, where he directed corporate communications during a period of dynamic expansion that included the company's debut on the New York Stock Exchange, its shopping center expansions and the beginning of its evolution as Target Corporation. In 1970 he launched his own Minneapolis based public relations/public affairs company, Northstar Counselors, Inc. In l974 he expanded his firm's reach as a founding partner and chairman of Pinnacle Worldwide, Inc, an international organization of 72 leading independent public relations and marketing communications firms in the U.S., Europe and Asia-Pacific. With his wife serving as Pinnacle's executive director, they traveled extensively . A resident and active citizen of Wayzata since 1967, Joe served terms on the Wayzata City Council, Planning Commission and Heritage Preservation Board. He also served on the boards of Courage Center, Interfaith Outreach and Community Partners, The International Hearing Foundation and Kids at Risk Action. Gifted with a strong baritone voice, Joe didn't hesitate to use it to support a just cause, deliver an opinion at a public hearing, or spontaneously sing a song. He loved jazz, played the trumpet, and led dance bands in high school and college. His military service piqued an interest in the intelligence community. His interests – and his heart – ranged widely. His compassion was measured in many quiet acts of outreach to others. His joy at being the beloved "Papa" to his eight grandchildren could not be measured. Joe will be greatly missed by his family and many friends. Due to Covid-19, a private family Mass will be held at St. Bartholomew Church in Wayzata on Saturday, November 7 at 12:00. A 20 minute graveside service will be held at 1:15 on the grounds of Holy Name of Jesus Cemetery – 155 CR24. All are invited to attend. Masks will be available for all. A celebration of "An Irish Life Well Lived" will be held at a later date. Memorials preferred to Interfaith Outreach and Community Partners (iocp.org) or Kids at Risk Action (invisiblechildren.org) David Lee Funeral Home Wayzata 952-473-5577 davidleefuneralhome.com
Published on November 5, 2020