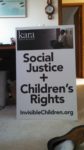 This is a story worth repeating (please add your name & support sensible laws for children below)
Today, we are sharing a news story from Childrensrights.org about Grace, a Black 15-year old who was sent to a juvenile detention center for failure to submit schoolwork.
In an email to Grace's caseworker, her teacher stated that Grace was "not out of alignment with most of my other students."
Tens of thousands of children have struggled to adjust to the online learning environment the coronavirus created. ProPublica cites 15,000 high schoolers in Los Angeles alone failing to log in or complete schoolwork. Yet, a judge presiding for Oakland County Family Court Division, ruled in May that not completing schoolwork violated Grace's probation.
It's impossible to determine the frequency of cases like Grace's, but one thing is clear. Children's health and safety must be prioritized. We will continue urging states to stop admissions and to release kids from juvenile facilities. No child should be in juvenile detention for missing homework.
Add your name today. Join us in telling policymakers to bring our children home.
Read Grace's story from ProPublica »
Thank you for your support. Together we are #1Nation4Children.
Sincerely,
Adriana Pezzulli, Chief Development Officer
Children's Rights
Protecting Kids | Providing Hope
https://www.childrensrights.org/
Children's rights investigates, exposes and combats violations of the rights of children across the country. We use every tool available under the law to hold governments accountable for keeping kids safe and healthy.
Check out the 2020 Children's Rights Challenge FAQs here: https://p2p.onecause.com/childrensrightschallenge/page/faq
p.s. Here's a link to your personal page and a reminder of the Challenge timeline. Thanks again for joining us!
https://p2p.onecause.com/childrensrightschallenge/mike-tikkanen​
CHALLENGE TIMELINE
October 10th – 23rd:  Log your fitness hours in the Challenge on Strava. Participants must log at least 10 hours over 2 weeks to finish the challenge. https://www.strava.com/challenges/childrensrights
Anytime: We're pooling corporate and individual sponsorships to raise $500,000. Invite your friends and colleagues to sponsor your personal fundraising page. Just remember – you can change your goal at any time! Ask your employer if they have a matching gift program and if they will match what you raise.
On completion:  Be entered to win prizes from leading fitness brands and earn a digital badge for your Strava trophy case! Mark your calendar for the November 18th Benefit celebration. Registration information will be sent soon.
Don't forget to: Join the Children's Rights Strava Club: https://www.strava.com/clubs/736153
Anytime:  Share the love on social by tagging #1Nation4Children @childrensrights. Don't forget to follow @childrensrights too! 
Check out the Challenge FAQs here.
All donations are tax-deductible to the fullest extent possible under law. 
Contact: development@childrensrights.org