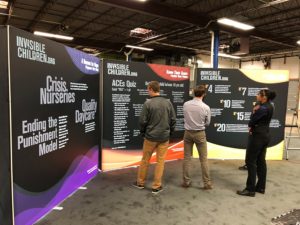 Nadine Burke Harris, Surgeon General of California

has declared childhood trauma
a public health epidemic and
public schools crisis in her state.
Kids At Risk Action invites you to start the conversation in your community with our INVISIBLE CHILDREN Campus program (provided free or near free to colleges & museums).
Help KARA build awareness and a volunteer force in your community to address the issues of child abuse and child protection where you live.
Abuse interrupts a child's learning and social skill development and causes serious often dangerous behavioral problems resulting in that child becoming a dysfunctional adult.  Trauma informed people help abused children heal and go on to lead normal lives.
Our society has for too long punished abused and traumatized children; expelling them from school and leading them into a justice system that never leaves them.
It is time to heal traumatized children and break the cycle of generational child abuse.
WHAT IS A PUBLIC HEALTH EPIDEMIC – A PUBLIC SCHOOLS CRISIS?
Polio, smallpox & measles were public health emergencies – policies & programs were created to end these crisis.
Since 2001,  Kids At Risk Action has been a passionate and unapologetic voice for abused and neglected children.  KARA's mission is to support people, programs, and policies that reduce domestic violence, interrupt generational child abuse to improve the lives of at-risk children and their families.
The COVID pandemic is keeping at risk children from school and the only place they can find safety and mandated reporters that stop child abuse (teachers are 80% of mandated reporters of child abuse).  Without community awareness and involvement, children and communities will suffer the lifelong impact child abuse has on each child and the
KARA's online program is creating conversations, building awareness and a volunteer force on college campuses around America's public health problem and public school crisis of generational child abuse and trauma.
Untreated childhood abuse & trauma has a ripple effect, impacting schools, neighborhoods, prisons, and public health and safety.
The INVISIBLE CHILDREN Campus program collaborates with the community's child friendly organizations to build awareness and a volunteer force benefiting at risk children and their families (religious organizations, crisis nurseries, foster/adoption programs, CASA guardian ad litems, Big Brother/Big Sister, and other child and family mentoring/healing programs and organizations).
Participating organizations and a growing volunteer force will have long lasting positive impact on the lives of at-risk youth in their community long after the program moves on.
Through this program, future leaders will have a better understanding of child abuse, childhood trauma and Adverse Childhood Experiences and will be prepared and committed to solving America's generational child abuse epidemic.
By involving students and citizens in the conversation about ACEs/mental health, solutions for healing, awareness, and supporting local child friendly organizations and volunteer building in the community – life can improve for children and the communities they live in.
Share this program with departments (mental health/social work/juvenile justice
and campus organizations friendly to children's issues.
This dramatic change in children's education due to COVID will impact at risk children and families for decades. 
Help your community find volunteers and better answers
with a conversation about KARA's INVISIBLE CHILDREN Campus program.
Contact KARA for more information
info@invisiblechildren.org
Building Awareness and a Volunteer Force in Your Community
INVISIBLE CHILDREN CAMPUS PROGRAM
Building the special forces needed to heal children and end child abuse in America
 Volunteers needed