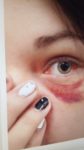 Kids at Risk Action (KARA) is a non-profit action tank that supports the people, policies, and programs
that improve the lives of at-risk children. We are passionate and unapologetic advocates
 for the welfare of abused and neglected kids in Minnesota, the United States, and around the world
KARA Signature Video (4 minute)
Public Service Announcement( 30 Second)
Fewer children are entering the foster care system during the pandemic.
This is not because there is less child abuse and trauma.
Families are more stressed than before COVID.
Drug and alcohol use, domestic violence and child abuse are up because of this.
The following information is gathered from local MN news sources over the last 60 days.
These are MN foster care stories and statistics during COVID.
The need for more loving families for these children is growing.
ALL ADULTS ARE THE PROTECTORS OF ALL CHILDREN
On an average day, over 9000 children are in foster care in MN.
Protecting at risk children during COVID
900 MN children waiting for a forever family
Group Foster Home workers forced to work after being tested positive for COVID.
Wright County needs Foster Homes (crisis nurseries)
Duluth Therapeutic foster care information sessions
Social worker training in federal Native American welfare laws
Aging out of foster care during COVID
St Joe's Home for children closing
A growing need for foster families