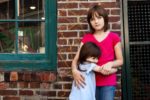 Kids At Risk Action writes and reports on child abuse issues
& provides a passionate voice for at risk children
This article researched and compiled by KARA board member Mike Tikkanen
All Adults Are the Protectors of All Children
KARA Public Service Announcement (30 seconds)
KARA Signature Video (4 minute)
Support KARA's Public Service Announcements
Because schools are closed, after-school activities are canceled and churches aren't having youth groups and community activity with trusted adults outside the home have evaporated – the chances an abused child can find help to interrupt abuse in the home are dramatically reduced. 
Add to that, families living with troubled children are finding the COVID environment much harder now.
More anxiety, substance abuse and family violence are happening because of lost jobs or being unable to work because affordable daycare doesn't exist where they live added to the 24/7 close quarters of people locked into toxic homes because of the pandemic.
Every state is struggling with child protection, domestic violence and foster care.  What's it like to be a foster child or a foster parent in your state?  The following articles are arranged by state.  Check out your state here;
Alaska's Rate of children in foster care double that of the rest of the nation…
Arizona; Increase in foster care children – Donald Williams vs AZ child-Welfare
California; 1000's of adoptions ended as courts are closed because of pandemic. Children's Mental Health & foster care
California; Gabriel Fernandez death 7 years ago and child protection in California today.
Colorado; Child abuse calls drop by half during COVID – Disturbing rise in "non-accidental child trauma".
Connecticut; Invisible Children
Florida;  Foster care during Corona Virus (16,000 child abuse hotline calls / month pre Covid -3000 calls / month as of May 25th)
Georgia Expects Pandemic to create upsurge in foster care.
Idaho; Increase in adoptions (video) & the highest rate of wedded minors (248,000 12 and under in U.S. between 2000 -2010) Reviews can be used as evidence
Iowa; Help needed finding foster families in Western Iowa
Illinois; 2M grant for trama-focused treatment. A.J. Freund 5 yr old boy beaten to death
Indiana; Allowing children to remain in foster care during pandemic
Kansas Closes last youth residential cares for boys (PCAP).  35% of these Kansas kids graduated high school this year.
Kansas; Twisted cruelty in Kansas foster care system for teen girls. Mental health goes virtual
Kentucky foster families were struggling to find families before the pandemic – it will be even harder coming out of the Covid pandemic.
Louisiana; Child Protective Services needs 1500 workers to help at risk children.
Louisiana; half of child care centers closed
Massachusetts; Abused children stuck and home and child abuse reports drop a big concern
Minnesota; May is Foster Care Month (15,000 children in foster care) Quietly banning child marriage in MN
Maine; Redesigned website for DHHS to better serve the public
Michigan; Youth sent out of state by DCS return with Covid
Missouri; Big change for foster children
Montana Child Abuse reports down significantly – child advocates worried.
Nebraska; Heartland family services buys Archdiocese campus.
Nevada; Dave Thomas foundation expands Wendy's Wonderful Kids charity
New Hampshire; National Foster Care Month – 1 in 17 children live outside of their family home.
New Mexico; Who decides on foster placements?
New York; Foster children asking the Governor for help.  Emergency orders for vulnerable young adults.  Juvenile Detentions rise.
North Carolina; Isolation, depression and poverty of aging out foster children.
Ohio; First in house adoptions since mid-March
Oklahoma; Lack of foster families places children outside the county
Oregon; Legislators meeting in secret to cut funding to child protection and foster care. Expected surge in abuse cases
Rhode Island; Emergency care for foster children during pandemic.
South Carolina teachers helping abused children outside the classroom during the pandemic.
Tennessee; Kids in need of permanent homes
Texas; RMYA / Roy Maas Youth Alternatives Accreditation
Virginia; Spike in child abuse cases
Washington; Foster child housing-rescue plan. Abuse allegations forcing Prescott boys home closure
Washington DC; At the bottom of all at risk child indicators Children quarantined in Government Office Building Advocates Alarmed
Wisconsin; Trauma screening through ACEs to help abused children heal – Black children 4 times more likely to be removed from the home in CP cases.  Governor Evers cuts 1.9 M from child welfare services.