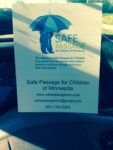 This year Minnesota children were safer and received more services due in large part to the loyal donors and passionate volunteers of Safe Passage for Children of Minnesota.
Safer Children
13,600 more children annually are getting help from county child protection agencies due to changes our passionate volunteers helped make in state law.
More Resources
Counties and the state increased their budgets for child protection and foster care by over $200 million since 2015.  In addition, counties added nearly 500 caseworkers – a 60% increase.
New Challenges
But challenges remain. Counties continue practices that compromise child safety, such as interviewing vulnerable children in front of their alleged abusers.
Minnesota lacks statewide standards for most steps in the child protection and foster care process. And information needed to hold the program accountable continues to be incomplete and hard to obtain.
With your continued support we will advocate for safe practices, statewide standards, and better accountability during the 2020 state legislative session.
Please mail your check today or donate online at www.safepassagemn.org and find the header entitled "Donate" at the top of the page.
On behalf of Minnesota's most vulnerable children, thank you.
Rich Gehrman, Executive Director, Safe Passage for Children of Minnesota
P.S.  Please consider making part or all of your donation to Safe Passage for Children – Advocates, a companion 501 (c) 4 fund that allows us to do lobbying. Similar to a political campaign, a donation to our advocacy arm will not be tax deductible.
Checks can be mailed to: Safe Passage for Children of Minnesota, 2148 Eleanor Avenue, Saint Paul, MN 55116