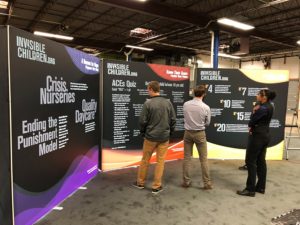 Nadine Burke Harris, Surgeon General of California has declared childhood trauma
a public health epidemic and public schools crisis in her state.
Kids At Risk Action invites you to start the conversation in your community with our INVISIBLE CHILDREN Campus program (provided free or near free to colleges & museums).
Help KARA build awareness and a volunteer force in your community to address the issues of child abuse and child protection where you live.
Abuse interrupts a child's learning and social skill development and causes serious often dangerous behavioral problems resulting in that child becoming a dysfunctional adult.  Trauma informed people help abused children heal and go on to lead normal lives.
Our society has for too long punished abused and traumatized children; expelling them from school and leading them into a justice system that never leaves them.
It is time to heal traumatized children and break the cycle of generational child abuse.
WHAT IS A PUBLIC HEALTH EPIDEMIC – A PUBLIC SCHOOLS CRISIS?
Polio, smallpox & measles were public health emergencies – policies & programs were created to end these crisis.
Today 37% of American children are reported to child protective services by the time they are 18.
In 2016, 3.5 million children were investigated (or the subject of CP response).  Almost 700,000 children are abused annually & tens of million Americans suffer from the traumas of child abuse.
Untreated trauma leads to dangerous lifestyle, chronic illness and early death – impacting taxes, schools, public safety and health.
The vast majority of youth in the Juvenile Justice System came through child protective services & almost all criminal justice inmates experienced the juvenile justice system.  Prison recidivism has reached as high as 80% in the U.S.
80% of youth aging out of foster care lead dysfunctional lives.  Our communities suffer along with them as the health of a neighborhood depends on the well-being of the people living there.
Contact KARA for more information
info@invisiblechildren.org
Building Awareness and a Volunteer Force in Your Community
INVISIBLE CHILDREN CAMPUS PROGRAM
Building the special forces needed to heal children and end child abuse in America
 Volunteers needed