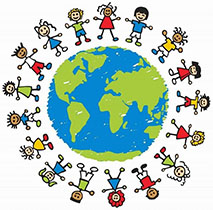 Dropping napalm on children and families in Vietnam (PBS video) was an unforgivable evil. Thousands of small children died by napalm.
Burned alive is the most painful death anyone can suffer. Survivors live with scars and trauma that never end.
Today, my government takes helpless babies & children from parents and places them in the custody of money driven defense contractors who warehouse them in cages at vacant shopping centers by the thousands.
The American Psychological Association condemns this act as needlessly cruel threatening "the mental and physical health of both the children and their caregivers".
*Torturing immigrant children for political reasons is a vile act and it needs to be called out. *The World Health Organization defines torture as "extended exposure to violence and deprivation".