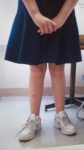 May had her first baby as a state ward in a group home when she was 16 and her second child when she was 18 before aging out of foster care.
Her mother was 17 when May was born.
Her grandmother was even younger when May's mother was born.
How old will her daughter be when she has her first baby?
Abused children suffer traumas that last forever and leave a child feeling devoid of love with an emotional void that cannot be filled by social workers, teachers or kind foster parents.
All children want love in their life.  A baby is love.  The difference between that poor child and a preteen mom with no parenting skills, a drug problem and a violent boyfriend is about 8 years.
Foster teens are twice as likely as their peers not in foster care to become pregnant by age 19.2
Many of those who become pregnant experience a repeat pregnancy before they reach age 19.
According to this longitudinal study of more than 700 young people in Iowa, Wisconsin and Illinois, 33% of females in foster care had been pregnant by age 17 or 18, …
Almost 20% of youth in the child welfare system (15 years of age, on average) reported first having consensual sex at or before age 13
This might explain why more than one-third of young women in the Midwest study who experienced pregnancy described themselves as "definitely or probably wanting to get pregnant."
https://www.guttmacher.org/gpr/2011/06/teen-pregnancy-among-young-women-foster-care-primer
ALL ADULTS ARE THE PROTECTORS OF ALL CHILDREN
Support KARA
BUY OUR BOOK OR LISTEN TO THE AUDIO BOOK (FOR FREE)