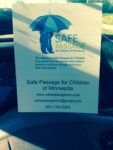 Friends of MN Children,
You can help vulnerable Minnesota children today by clicking and sending a message of support to your elected Representative and Senator regarding the following child welfare legislation.
Please help. It only takes a few minutes to make a big difference!
Here is some background for you. First, the Great Start for All Minnesota Children Act, House File (HF) 1 and its companion Senate bill SF 820, is the most ambitious legislation in years to address root causes of child maltreatment, as well as racial disparities in child protection, foster care, and prenatal care.
HF 1 would provide early learning scholarships to all financially eligible children aged birth to three.  Solid research indicates that quality early learning experiences reduce child maltreatment up to 50%, and this bill targets children are at the most critical age for brain development.
In addition this increases funding for targeted home visiting services, which also dramatically reduce the number of children who are abused or neglected, and consequently end up in the child protection system. It adds $23 million to the program in 2019, growing to $56.5 million by 2022, and includes a 25% set-aside for culturally effective programs.
The bill also provides $5 million to reduce racial disparities in access to prenatal care.
Just follow the quick steps below to contact your representatives about this important legislation for children.
Thank you for your advocacy for children!
– All of us at Safe Passage for Children of Minnesota