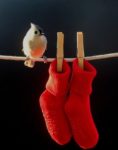 While the rest of the industrialized world is using public policy to make quality education, health & child care affordable for all, America has doubled down on commercializing prisons, group homes & schools and making health care a nightmare for tens of millions of its citizens.
Institutional daycare in my state (MN) is over $14,000 / year – about half a minimum wage persons entire income.  This CASA guardian ad Litem volunteer reviewed the waiting list for subsidized daycare in 1996 – it had 34 names on it.  These last few years it has had 7000 names on it.  Over half of Americans live in child care deserts.
Today, political upheaval is keeping old unworkable models in place that continue to deny at risk children and young families basic needs required for living a healthy life and building a livable community.
If we continue to do nothing, expect more prisons, recidivism, crime, failing schools, dangerous communities and negative quality of life statistics for generations to come.
Maybe if each one of us made a slightly greater effort to understand and support the people, programs and policies that make life more livable for at risk children and young families – the benefits will be genuine and long lasting for everyone.
Start Knowing More Here;