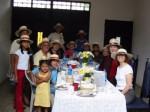 Help KARA grow this page – submit your stories, videos and articles to info@invisiblechildren.org
One out of 25 U.S. families have an adopted child.
Half of the 135,000 adoptions are from the foster care system.  There are over 100,000 eligible children waiting to be adopted. The average age of a foster child in the system is 7.7 years old and 29% of those children will be in foster care for at least three years.
This is the 5th consecutive year of growth of children in foster care.
There are 438,000 children in foster care in America today & in 2016, 687,000 children spent time in foster care.  37% of American children are reported to child protection services by their 18th birthday.
Share the resources below with your foster and adoptive friends.
All Adults Are the Protectors of All Children
Journey of the Adopted Self – the quest for wholeness
Being Adopted -The lifetime search for self
Lost and Found – The adoption experience
Coming Home to Self – The adopted child grows up
Parenting As Adoptees – Many authors, many stories
Invisible Asians – Korean American, Asian Adoptees and racial exceptionalism
Adoption Healing – a path to recovery
20 Things Adopted Kids Wish Their Adoptive Parents Knew
20 Life Transforming Choices Adoptees Need To Make
You Don't Look Adopted – a memoir
The Adoptee Survival Guide – Adoptees share wisdom and tools
All You Can Ever Know – a memoir
Adoption Therapy – Perspectives on Healing
An Affair With My Mother – A story of adoption, secrecy and love
Related by Adoption – A handbook for grandparents and relatives
In On It – What adoptive parents want you to know about adoption
Grandparents Adopting Their Grandchildren – How it can affect their relationship with their children
Best Articles for Adoptees 2015 A variety of voices and experiences
Video – 8 Adoption Stories
Resilience Movie Trailer (2 minutes) YouTube (1 hour)
Chronicle of Social Change on Foster and Adoption  (the movie)