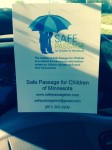 Minnesota's abused and neglected children need our voices.  Share this message from Safe Passage for MN Children with your networks;
Recently some legislators and child protection agencies began theorizing that an underlying cause of caseload increases is screening families into the system not because of maltreatment, but as a way to get them scarce social services.
Statistically, this seems unlikely.
According to the Department of Human Services, last year counties screened in 45% of 84,000 maltreatment reports.  Since the screen-in rate for states nationally is 60%, this suggests that nearly 12,000 Minnesota children are still being inappropriately denied child protection help.
Speculating that counties are using child protection inappropriately may simply be groping for reasons not to fund child protection.  But it could also have other negative consequences, including statutory changes and giving counties another reason not to respond to maltreatment.
We need to challenge this unsubstantiated hypothesis with data.