Sign Up Here For KARA's Free Friday Morning Real Story e Updates
KARA (Kids At Risk Action) tracks current statistics, facts and news about at risk children bringing transparency and attention to our youngest and most vulnerable citizens.
This reporting is only sampling of what should be reported –  the great majority of child trauma & abuse is never known.
37% of children overall and 54% of Black children are reported to child protection services in America by the time they turn 18.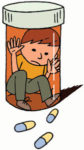 (American Journal of Public Health 1.17)
6 to 12 million children a year are reported to child protection services and in many states,
About 1/3 of foster children are required to take psychotropic medicines
ALL ADULTS ARE THE PROTECTORS OF ALL CHILDREN
Investigation: Maine Gives Psychotropic Drugs To More Foster Children Than Most States
Maine Public
Psychotropics include commonly prescribed drugs such as Prozac and Ritalin … Maine treated 32.7 percent of children in foster care with psychotropic …
The Daily Courier
… because the Canadian Pediatric Society just officially approved the use of one class of antidepressants — which includes Prozac — for children.
US Government To Rid Itself Of Meddlesome Judge In Baby Jails Case
Wonkette (blog)
At the end of July, Judge Gee ruled the feds had violated the settlement by medicating migrant kids at the Shiloh Treatment Center in Manvel, Texas, …
UNK students spread awareness about overmedicating children
Kearney Hub
The topic of medicating kids for conditions that might not necessarily need medication is something Sisson and Megan Jaeger, another senior in the …
Self-medicating your child? Stop!
Guardian (blog)
Most surveys have shown that over 50 per cent of parents self-medicate their children irrespective of socioeconomic status, level of education and …
Why Medicating Your Child With ADHD is the Best Option
Patheos (blog)
Today when I see parents resist medicating their children I get frustrated. Treating mental illness should not be taboo. Through my own experience, …
School Board Receives Update on Alleged Violations at Wonderland
State College News
… student reportedly told the district that Wonderland's CEO said the school does not administer medication or believe in medicating children, and that …
Drugs denied to hundreds of thousands of children with ADHD, experts say
Telegraph.co.uk
They said the lag may also be due to unfounded fears among the public that medicating children with methylphenidate, known as Ritalin, acts a …
The forced drugging of child immigrants is a moral abomination that can't just be blamed on Trump.
Slate Magazine
The standard gloss on this medication scandal—that the Trump … Rather, "polypharmacy" is a mainstream approach to medicating children in …
Children with ADHD May Benefit from Canine Assisted Interventions
Contemporary Clinic
The study was conducted on children aged 7 to 9 years with ADHD who had not been previously treated with medication. The children were …
Provo company launches caresharing GoFundMe, LGCY Power raises funds for Tiny Hero CDH …
Daily Herald
Moms who couldn't find or afford childcare were medicating their children and locking them at home while they left for work. It was that, or starve. Soon …
Kids Were Killed at Texas Youth Facility. Then Feds Sent Migrant Children There.
Daily Beast
By the time the federal government started sending immigrant children to …. Over-medicating the children to keep them in line was common practice, …
Migrant kids were stripped, drugged, locked away. So much for compassion.
Washington Post
Staff members there admitted they had administered psychotropic medication to children without bothering to seek consent from parents, relatives or …
Federal Judge Orders Government To Seek Consent Before Medicating Migrant Children

NPR

A federal judge in Los Angeles has ordered the Trump administration to seek consent before administering psychotropic drugs to immigrant children …

Trump administration must stop giving psychotropic drugs to migrant children without consent … – Washington Post

Federal Judge Orders Trump Administration To Get Consent Before Drugging Migrant Children – HuffPost

When Medicines Affect a Child's Mind and Behavior

New York Times

What doctors and parents should discuss about medicating a child for … of being part of a conspiracy to medicate children for behaviors that are either …

Judge Orders Government to Obtain Consent Before Medicating Immigrant Children

ColorLines magazine

A federal judge on Monday (July 30) ordered the federal government to seek consent from immigrant parents before their children are administered …

No more psychotropic drugs to migrant children without consent, US judge rules – The Guardian

A Judge Just Told the Government to Stop Medicating Immigrant Kids Without Consent – Mother Jones

The US government MUST seek consent before medicating detained migrant children with … – Daily Mail

Will pills cure your teen's anxiety? What to know before putting your child on anxiety drugs

Deseret News

That's because medicating children for anxiety is so controversial that Gornick feared the topic would detract from the film's core message, which is that …

Federal Judge: US Needs Consent to Medicate Immigrant Kids

Daily Beast

A federal judge on Monday found that the U.S. government violated rules on the treatment of immigrant children caught crossing the border illegally by …

Government MUST seek consent before medicating immigrant children

Brinkwire (press release)

The Trump administration must get consent from parents or through a court order before it may administer psychotropic drugs to immigrant children in …

Progressive Briefing for Tuesday, July 31, 2018

NationofChange

… orders government to seek consent before medicating migrant children … settlement which governs the treatment of detained immigrant children.

Kids' mind and behavior may affect by medicines

Facts Herald

Now we will talk about the discussion that how should doctor medicating a child in distress and the family should checkouts the medication which was …

Migrant kids are being traumatized, not treated for mental health needs

Sacramento Bee

It accuses the agency of detaining children in excessively restrictive conditions, forcibly medicating children and failing to reunite children with their …

Civil rights attorneys to tell LA judge that feds are traumatizing child migrants

LA Daily News

ORR neither requires nor asks for a parent's consent before medicating a child, nor does it seek lawful authority to consent in parents' stead. Instead …

Traumatized Children Drugged Without Consent at US Immigrant Shelters: Report

teleSUR tv HTTPS (press release) (blog)

Last month, lawyers for five immigrant children under the age of 18 filed a class-action lawsuit after they were over-medicated without consent in Los …

Immigrant shelters drug traumatized teenagers without consent

USA TODAY

Under most states' laws, before a child is medicated, a parent, guardian, or authority acting in the place of the parent — such as a court-appointed …

Tensions at reunification deadline

Politico

The count of yet-to-be-reunited children includes 431 children whose … unlawfully medicating children without parental authorization, and failing to …

Mom Defends Sedating Her Kids Before Flights & Parents Are Divided

CafeMom

But for one British mom who spoke out on national TV, she admits to trying a more controversial method on her last flight with her kids: medicating …

Experts Tell Ky. Lawmakers To Treat Gun Violence As A Health Crisis

WKU Public Radio

Firearm-related injuries are the third-leading cause of death in children … parents need to stop over-medicating their children and steer them away …
Anti-Anxiety Meds Given to Boys For Rescue Mission From Thai Cave – An Important Lesson On Risk
American Council on Science and Health
Adults and kids can respond very differently to these types of drugs. … Medicating children without first speaking to their pediatrician is a bad idea.
The forced drugging of child immigrants is a moral abomination that can't just be blamed on Trump.
Slate Magazine
"The president has to be ordered not to give children psychotropic drugs, but … Experts on the use of psychotropic drugs in foster care and residential …