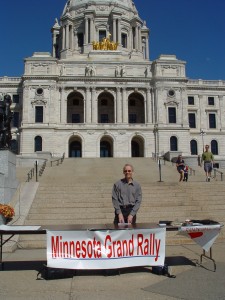 ·
A Great Idea;
In 2015, approximately 21,338 grandparents in Minnesota had the primary responsibility of caring for their grandchildren
Leaving the courtroom after the adoption of her four grandchildren, Charlotte, stated that when the youngest of these children turned 18, that she would be 88.
I'd noticed a limp in her walking and that she was on medications in the months before the adoption but never thought through the commitment, physical exhaustion and financial stress grandparents take on when adopting their child's child.
It's a much greater effort for a 65 year old person to manage the wild and unpredictable behaviors of a 3 year old than it is for a 25 year old birth parent  We seniors wear out faster, break easier and heal slower.
Happy Grandparents Day and may those of you who have taken the big step of caring for your grandchildren find that the rest of us support you in helping your children reach their full potential.
Below are podcasts and support services for Kinship Care around the nation.  Share this with the big-hearted people in your life
that are caring for their grandchildren and other family members.
All Adults Are the Protectors of All Children
The following resources provide information on supporting and meeting the needs of kinship caregivers as they navigate the caregiving process and/or plan for adoption. The resources include State and local examples.
Grandparents Raising Children Support Group

Daily Strength (2017)
Provides access to a support group for grandparents raising their grandchildren or other family members. Kinship caregivers can find support, share their experiences, and get advice from other members.
Kinship Caregiver Support Programs

The California Evidence-Based Clearinghouse for Child Welfare (2017)
Lists evidence-based programs that support the needs of kinship caregivers. The programs have been reviewed by the clearinghouse and rated using a scientific rating scale. They include services such as placement stabilization, caregiver support, and postpermanency services.
Kinship/Relative Adoption Support

Adoption.com (2017)
Lists kinship/relative adoption-related forums where kinship caregivers can discuss issues and receive support from other kinship families who have similar experiences.
National Family Caregiver Support Program: Summary and Analysis

Grandfamilies.org (2017)
Explains the National Family Caregiver Support Program and lists provisions of the law and how it provides services to caregivers in the areas of information, assistance, counseling, support groups, trainings, respite care, and more.
Support Matters: Lessons From the Field on Services for Adoptive, Foster, and Kinship Care Families
(PDF – 2,222 KB)
AdoptUSKids (2015)
Reviews the importance of family support services in adoption, foster care, and kinship care and provides information on support services in these areas.
Supporting Relative Caregivers of Children

National Conference of State Legislatures (2017)
Explores support for relative caregivers of children in the areas of medical consent and school enrollment, relative notification, and subsidized guardianship. The resource also lists State legislative enactments from 2012 to 2016 supporting relatives, kinship care providers, and grandparents.
Using Kinship Navigators to Assess the Needs of Kinship Caregivers
 (PDF – 233 KB)
Sutphin (2015)
GrandFamilies: The Contemporary Journal of Research, Practice, and Policy, 2(1)
Describes a kinship navigator program for kin caregivers involved in the child welfare system and explains supports that kinship caregivers need to be successful.
State and local examples
Arizona Children's Association

Provides services to kin caregivers in Arizona to increase the safety, permanency, and well-being of youth in formal and informal kinship care.
Edgewood's Kinship Support Network (KSN) Program

Explains a peer network in California that offers a diverse range of support groups, including a Spanish-language kinship caregiver support group and a quilting circle support group.
Foster Kinship

Connects kinship caregivers in Nevada to financial resources, educational information, and legal help.
GrandFacts: State Fact Sheets for Grandparents and Other Relatives Raising Children

Grandfamilies.org (2017)
Provides 50 State-specific factsheets, including information on kinship caregiver data, State programs and local resources, public benefits, educational assistance, legal information, and State laws. National information and resources for Washington, DC, are also included.
Increasing Support for Kinship Families in Kentucky
 (PDF – 637 KB)
Blueprint for Kentucky's Children (2013)
Outlines the need for additional support services for kinship families in Kentucky to address the needs of kinship families and to help prevent more children from being placed in nonrelative foster care.
Kinship

Children's Home Network
Connects kinship families in Florida to services and support systems to increase family stability.
Kinship Care

Public Children Services Association of Ohio (2015)
Describes resources for kinship caregivers in Ohio and includes a section on support for kinship families that lists additional support resources.
Kinship Care Videos

Center for Child and Family Studies
Offers a series of videos to support relative caregivers in South Carolina. The videos include information on health, finances, legal services, support groups, training, and emergency funds.
Kinship Center

Describes a nonprofit agency in California dedicated to the creation, preservation, and support of foster, adoptive, and relative families. The website includes information on kinship adoption services, events, and online classes.
Kinship Support Services

Olive Crest (2015)
Lists support services available to kinship caregivers in the Orange County, CA, area including support groups and workshops, case management services, and mentors.
New York State Kinship Navigator Program

Provides services to increase the capacity of kinship caregivers in New York. Services include financial assistance, legal information, referrals to community services, and a help line.
North Oklahoma County Mental Health Center (NorthCare)

Offers home-based care coordination service in Oklahoma to kinship foster families.