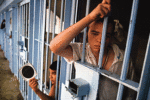 All Adults Are the Protectors of All Children
Support KARA (BUY the book INVISIBLE CHILDREN)
listen to the audiobook for free 
It is upsetting that the only significant authoritative voice speaking to the horrific practice of criminalizing mental illness in MN is Hennepin County Sheriff Rich Stanek.  In Illinois, it is Sheriff Dart that waking up the public to the statistics and growing trends of incarcerating people that need help instead of helping them.
Stanek's Star Tribune article today paints the ugly picture of mentally ill patients not charged with any crime, locked up in a tiny, isolated, empty cell for 23 hours a day for months at a time because there is no other place for them. 
HCMC downtown is seeing 800 to 1000 emergency psych visits/month, MN hospitals are turning away mental health patients and a very large percentage of people in the juvenile and criminal justice system suffer from diagnosable mental health problems.
Decades of watching traumatized children in the child protection system sedated with Prozac like drugs for their violent behaviors as they pass through foster homes and child protection into juvenile justice and then into Sheriff Stanek's jail cells and then to prison has taught me how this community values a punishment model over a treatment model for even the most vulnerable of its citizens.
Former MN Supreme Court Chief Justice Kathleen Blatz stated that "90% of the youth in the juvenile justice system have come through Child Protective services" & "The difference between that poor child and a felon is about eight years".
Sheriff Stanek has been speaking out on mental health and his inmates for years.  It may have been his threats to sue the State for not providing timely mental health services to the people in his squad cars and jail cells that prompted funding proposals to make services for patients show up.  I also think that his threats prompted funding for children's mental health to be increased.
Until this mental health phenomenon is understood and trauma informed services show up to replace the band aid of incarcerating and drugging mentally troubled State Wards (youth & adult), we can expect more violence, crime & prisons and a growing public health crisis.
All Adults Are the Protectors of All Children
Support KARA (BUY the book INVISIBLE CHILDREN)