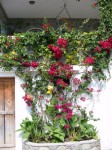 CHIP provides health care coverage to nearly 9 million children.  Approximately 1.9 million children are at risk of having their CHIP coverage terminated during the month of January if Congress takes no action.
Call your Senator & let them know that playing politics with the life of a child is awful.  Be bold and tell them that you could not support someone who would allow the life of a child to be less important than a political party chit.
Funding for the Children's Health Insurance Program (CHIP) expired on September 30th of this year.  CHIP, a block grant program, covers the medical expenses only for those children whose families make too much to qualify for Medicaid but also don't earn enough to buy good health insurance on the market and are not covered by an employer's plan.
Since the September expiration individual states have been cobbling together funds as best they can to fund their delivery of health care to these children.  More than 25 states will run out of money for this program by the end of January.
Some of these children have conditions that are life-threatening without medical care.
Parents are desperate see their children not have access to life saving medical care.
KARA supports the health and safety of all children, regardless of the income of their families. Contact the senators and representatives in your state to tell them that you expect CHIP to be funded immediately as it has been for the past 20 years.
Our legislators found a way to reduce taxes for the financial health of big corporations; they must not take that action at the expense of our children's physical health.  All Adults Are the Protectors of All Children