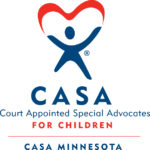 Abused and neglected State Ward children have already suffered enough when they enter *foster care.
To be removed from a birth home by a judge means that the child's life has been in imminent danger of serious harm.  Most of the children I've worked with as a volunteer CASA guardian ad Litem have stories that still make me shudder (some) from twenty years ago.
Brandon Stahl's article in today's Star Tribune is one of those stories.
Many of you will disagree and some strongly, that Melissa Anne Sondrol is not the only reason this poor foster baby has 13 fractures that appear to be deliberately inflicted by a foster mother.
I argue that that our community so undervalues children that way too many smart, trainable foster families stay away from what they see as a troubled and under-resourced system.
Foster care of abused and traumatized children is really really hard.
All Adults Are The Protectors of All Children
Whether seven weeks, Seven years or seventeen years old, their habits and behaviors can be threatening and dangerous to themselves and those around them.
Melissa did not have the skills to care for this "incredibly fussy, fussy baby" (her words) and was most likely one of few choices the system had to place the child.
We should all be grateful to Brandon Stahl's investigative reporting for shining a light on the deep and dark problems of child abuse and foster care in our state.  Without his efforts, and the efforts of other child friendly reporters, these children have no voice – in their homes, in the media or in the institutions that rule their lives.
Keep in mind that of the 40,000 reports of abuse these last twelve months, maybe 1% have made it into the public eye.  80% of children aging out of foster care lead dysfunctional lives (the cost to our community is incredible).
If we the public don't see a thing, it doesn't exist and no one steps forward to demand that foster parents receive the oversight and resources that insures traumatized State Ward children live with caregivers able to care for them.
How many more children will suffer the fate of this 7 week old baby or that of Eric Dean or Kendrea Johnson before our community stands up for the kinds of care abused and traumatized children need to have to live a safe and normal life?
Keep in mind that it is not the money (we had a billion dollars for the stadium, a billion dollars for the 35W bridge disaster & a billion dollars for transportation funding) it is a lack of concern for other people's children.
*Foster care has become a terrible problem in every state. Some states have higher daily rates for boarding your dog than they pay foster parents for child care.
Become a volunteer CASA guardian ad Litem and speak for a child