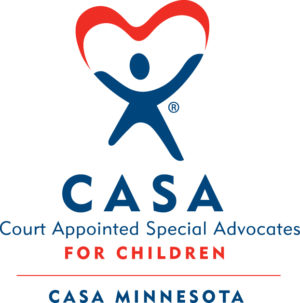 We need your help! Your sponsorship of this event will be essential to the fundraiser's success and will enable CASA Minnesota to continue providing volunteer Guardian Ad Litem's to abused and neglected children involved in Juvenile Court proceedings in our communities & to help fund CASA Cares for kids! We would be most grateful for your sponsorship at any level (including live and silent auction items). Join us for a celebration and a great cause.
CASA volunteers – also known as Guardians ad Litem in the State of Minnesota—are everyday citizens whom judges appoint to advocate for the safety and well-being of children who are in the court system as a result of abuse and/or neglect. They stand up for these children and change their lives.
CASA Cares is a grant program, formerly known as Friends of Children that benefits children in foster care by providing bikes, helmets, camps, school supplies, and other items that allow them to enjoy a positive childhood experience and further help them to overcome adversity by seeing that we as a community can help meet their needs!
CASA Minnesota is a 501(c) 3 non-profit organization that supports Minnesota CASA (Court Appointed Special Advocate) programs and the volunteers who have helped more than two million children find safe, permanent homes. Your contributions are tax-deductible! Share this with your friends and networks (All Adults Are the Protectors of All Children)