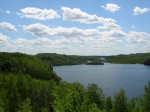 From Safe Passage for Children today;
We often emphasize the importance of measuring outcomes for children. But performance measures are important too. They tell us current information about program operations.
The metrics currently on the Department of Human Services' Dashboard Report
don't cover enough parts of the system to give a well-rounded picture.
However a state committee is considering additional measures to show, by county,
the number and percentage of:
– Maltreatment reports screened out (not responded to)
– Reports screened in but assigned to the less rigorous Family Assessment
program instead of being investigated
We hope they also add the number of times:
– Individual children were reported
– Families were diverted to Family Assessment without an investigation
These measures will improve the public's ability to understand how well the system
is functioning and to hold it more accountable.