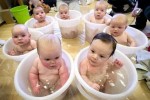 These articles are from the ACES Connection from April 2016 (Adverse Childhood Experiences Daily Digest)
ACESCONNECTION daily digest
[ACES = Adverse Childhood Experiences!]
It's April Again, Camping Season in Northern Michigan Begins, ACEsConnection.com
Dr. Cathy Anthofer-Fialon explains how the change of season displaces families in Northern Michigan.
Something to Consider… for the next time you teach or preach on worry, ACEsConnection.com
Chaplain Chris Haughee shares a section from his training, "10 things that kids with ACEs woud like you to know: moving your church toward greater empathy," called "The traumatized are biologically wired to worry."
For Police, a Playbook for Conflicts Involving Mental Illness, NYTimes.com
At a time when police behavior is under intense scrutiny — a series of fatal shootings by police officers have focused national attention on issues of race and mental illness — Portland's approach has served as a model for other law enforcement agencies around the country.
The Strong Evidence Against Spanking, TheAtlantic.com
A review of the available research finds that physical punishment is significantly linked to bad outcomes for kids.
A Shared Sentence, AECF.org
The incarceration of a parent can have as much impact on a child's well-being as abuse or domestic violence. But while states spend heavily on corrections, few resources exist to support those left behind. A Shared Sentence offers commonsense proposals to address the increased poverty and stress that children of incarcerated parents experience.
Rural Oregon County Integrates ACEs Screening in School-Based Trauma-Informed Health Centers, ACEsConnection.com
For the last two years, nearly all students referred for mental health services in seven school-based health centers in Deschutes County, OR, have taken the 10-question adverse childhood experiences survey.
HCR 21 in the Alaska State House, ACEsConnection.com
Although the bill is now considered dead, Representative Geran Tarr was able to build a record of information about ACE's, talk to many of her colleagues, and move the bill out of the House Health & Social Services Committee to House Finance.
Bird that Wants to Fly, Arts Medicine & Poet Psychiatrist, Dr. Diane Kaufman, ACEsConnection.com
Transforming trauma is the theme of this book and the story of the author's life as well.
A Doctor's Call for Action on Childhood Poverty, Philly.com
Daniel R. Taylor makes the case for action to address childhood poverty in order to improve the health of children.
The Answer to Treating Drug and Alcohol Addiction May be Far Simpler than You Think, BusinessInsider.com
Author Maia Szalavitz explains that addiction is a learned behavior that often results in measurable changes to the brain. And acknowledging this could revolutionize not only how we see addicts but also how we treat addiction.
Fresh approach to childhood trauma means different treatment, new hope, Inforum.com

In North Dakota and Minnesota trauma informed care for kids is on the rise.

 

Close 'pipeline'? Start by not arresting children, CommercialAppeal.com

America suspends, expels, detains and incarcerates more youth than any developed nation on the planet. An indefensibly disproportionate number of those youth are minorities from low-income homes, neighborhoods and schools.

 

Beyond the Word Gap, TheAtlantic.com

Are efforts to boost kids' vocabularies before kindergarten missing the mark?

 

A Quiz on Teens: Common Misconceptions You Might Still Believe, PsychCentral.com

Understanding teens, and sorting myth from reality, is a challenge for both adults and teens themselves. So check out this quiz and update your knowledge on the latest findings.

 

The U.S. Is Still a Long Way From Eliminating Food Insecurity, CityLab.com

New data highlights the need to strenghten policies that ease access to a basic necessity.

 
To Improve Lifelong Health, Memphis Tries Rooting Out Childhood Trauma, PBS.org

How can communities intervene to spare future generations the same pain and illness? Special correspondent Sarah Varney reports in collaboration with Kaiser Health News on how the city of Memphis, Tennessee, is tackling the problem.

 

The Stress of Systemic Poverty Is Killing Us, PSMag.com

Racial minorities experience shorter lives, but until we can fix economic inequality there's an easy way to improve this health crisis: better listening skills among doctors.

 

Documenting Los Angeles's Near-Invisible Workers, TheAtlantic.com

The artist Ramiro Gomez revises images of the city's most luxurious domestic settings by inserting the housekeepers, gardeners, and caregivers who maintain them.

 

The U.N. Must Listen to Children of the Drug War, HuffingtonPost.com

The criminalization of families and communities has created generational harm that reproduces the very environments of trauma, grief, and pain that addiction thrives in. Still, the U.N General Assembly sustains the same empty mission statement of more than 18 years ago: "to promote a world free of drug abuse" and to reduce the production of illicit drugs. Such language reflects a fundamental misunderstanding of why people use drugs.

 

When School Districts Get Deliberate About Desegregation, TheAtlantic.com

Dallas and other cities have instituted policies aimed at increasing classroom diversity.

 
Beyond Paper Tigers, ACEsConnection.com
Beyond Paper Tigers, A Trauma-Informed Care Conference, will take place June 28-29, 2016, at Whitman College in Walla Walla, WA. The event features several local experts including Jim Sporleder, former principal of Lincoln High; Teri Barila, co-founder and CEO of the Children's Resilience Initiative (CRI); Brook Bouchey, former Lincoln High intervention specialist; Sergio Hernandez, retired educator, superintendent, and CRI logistics expert; and Rick Griffin, executive director of Jubilee Leadership Academy.
"Resilience" Screenings at Minneapolis St. Paul International Film Festival This Week, ACEsConnection.com
For those of you in the Minneapolis and Rochester, MN, areas, Resilience is coming to two theaters near you this week, as is director James Redford.
How Medical Professionals Are Teaming Up to Fight Bullying, YakimaHerald.com
Yakima's three community health clinics have made a big push in the last few years to integrate mental and behavioral health with medical services. Behavioral health specialists and medical practitioners are housed in the same building, facilitating a "warm handoff" between providers.
New Orleans Continues On a Path of Decarceration, CityLab.com
A new $1.5 million MacArthur Foundation grant could give New Orleans' public defenders, and its incarcerated citizens, some relief.
Fewer Teens Are Carrying Guns Than Ever, PSMag.com
Interesting patterns emerged when the team broke down the data by race and ethnicity. White males from high-income homes, for example, were more likely to carry handguns than their low-income peers. And while handgun carrying among African Americans and Hispanics has dropped or held steady since 2002, it significantly increased among whites over the last two years of the study period.
MEMBER REQUESTS
From our ACEsConnection members, we have a request inviting people from central Pennsylvania to start a community group, a discussion challenging neurobiology as an effective health care message, a request for information about trauma-informed hospital chaplaincies, and a question about ACEs and ethnic oppression.
Addressing Trauma as a Health Risk, MedicalXpress.com
Questions about smoking, seat belts or regular exercise are routine at a doctor's office, thanks to the overwhelming data showing that the lives we lead influence our overall health. But one insidious yet common risk factor is rarely addressed: living with trauma.
WHO: Better mental health care means a better economy, USAToday.com
The World Health Organization findings suggest every U.S. dollar invested in mental health treatment can quadruple returns in work productivity. However, most countries are investing far below what is needed for those suffering from common mental disorders.
Relieve Your Anxiety by Singing It, TheAtlantic.com
Some therapists are using Songify, a music app, to have patients make recordings of their worried thoughts—and get rid of them.
The Connection between Trauma and the Dropout Crisis, TheNoteBook.org
The impact of trauma on children, youth, and adults deep into their lives has been extensively documented and has spurred schools to become expert in and adopt trauma-informed practices to boost children's emotional-social well-being.
Member Discussion: The Need for ACES Education in Seminary
Dale Fletcher is looking for any initiatives that involve ACEs and ministry or for connections to decision makers in seminaries to begin a conversation about ACEs.
Why the Poor Die Young, TheAtlantic.com
A massive study of health and income found that smoking, obesity, and exercise are the most important determinants of longevity. Poor neighborhoods score worse in all of them. What's going on?
Living with adversity—what Tupac and Eminem can tell us about risk factors for mental health, MedicalXpress.com
Hip-hop artists Tupac and Eminem are among the most iconic music artists of the past two decades, and as Dr Akeem Sule and Dr Becky Inkster, co-founders of HIP-HOP-PSYCH, write, their lyrics can provide a valuable insight into the lives of some of the people most at risk of developing mental health issues.
The Geography of the Republican Primaries, CityLab.com
The remaining candidates continue to resonate with counties that are being left behind.
Dinner at 'The Longest Table' Helps Tallahassee Break Down Barriers, CityLab.com
The Knight Cities Challenge-winning project invited 400 strangers from across the city to dine together around a two-block-long table.
Member Request: Is there exisiting research linking ACE score and parenting practices?
Kerry Fair is looking for research in order to help shape services.
FREE Webinar Tuesday April 12th, 4pm EST — Measuring Trauma-Informed Care Using the ARTIC Scale, ACEsConnection.com
The Attitudes Related to Trauma-Informed Care (ARTIC) Scale is the first psychometrically valid measure of TIC published in the peer reviewed literature. It was developed collaboratively by the Traumatic Stress Institute of Klingberg Family Centers and Dr. Courtney Baker at Tulane University.
The Extreme Sacrifice Detroit Parents Make to Access Better Schools, TheAtlantic.com
Some parents have to travel six hours and take up to eight buses each day to take their kids to better schools outside of their neighborhoods.
Role Models Can Change a Community, HomerNews.com
MAPP, Mobilizing for Action through Planning & Partnerships, is a local coalition that aims to use and build upon our strengths to improve our individual, family and community health.
Pain Medication is Not a Gateway to Heroin, TheFix.com
To say, as the CDC did, that both pain patients and doctors are the culprits in rising mortality is misguided for several reasons.
Native American Roundtable holds meeting with Commissioner of the Administration for Native Americans, ACEsConnection.com
Commissioner of the Administration for Native Americans Lillian Sparks Robinson met with representatives of the Roundtable on Trauma-Informed Native Communities on March 30 to address concerns highlighted in a December 17 letter sent to HHS Secretary Sylvia Burwell by 12 U.S. senators.
New Report in Maine – Adverse Childhood Experiences in Maine II:Knowledge, Action, and Future Directions, ACEsConnection.com
An updated report (first one was in 2010) about knowledge of ACEs among providers in Maine, and how important the issues are. Also some input about the Maine Resilience Building Network and feedback about the educational efforts from the group.
Talking About Poverty, AAP.org
The AAP provides a series of messages and communications tips for pediatricians to use when talking about poverty and child health with other health care providers, legislators, and other audiences.
No, Wait, Short Conversations Really Can Reduce Prejudice, TheAtlantic.com
A new study redeems a remarkably successful canvassing approach that was rocked by scientific fraud last year.
What Happened to the American Dream? PSMag.com
Here's what you need to know about wage stagnation in America.
News You Can Use, ACEsConnection.com
Sylvia Paul explains how solutions journalism focuses on how to address social problems, going beyond simple identification of problems.
MARC Advisor: Laura Porter, ACEsConnection.com
Laura is Co-Founder of ACE Interface, a company that develops and provides ACE-informed educational products, consultation and strategies for improving health and well-being. She has spent more than a decade leading implementation of ACE study concepts in Washington, providing support and services to philanthropic leaders, government officials, parents, youth and communities.
Introducing the ARTIC Scale! The First Published Psychometric Measure of Trauma-Informed Care, ACEsConnection.com
A key barrier to the science of TIC is the lack of objective ways to determine if TIC is being practiced. The Attitudes Related to Trauma-Informed Care (ARTIC) Scale was created to fill this gap.
Tedex Talk today on Trauma in Richmond, VA, ACEsConnection.com
Dr. Allison Jackson of Richmond, VA is giving a Tedex Talk today on ACEs and need for more community involvement on this issue. She is scheduled to be on at 2:47 pm ET today, April 8, for about 10 minutes. There are three other speakers during the day speaking on trauma to a first time ever sold out crowd at RVA Tedex of 1500 folks!
Rep. Kennedy Calls Juvenile Justice the Next Civil Rights Issue, JJIE.org
The Democratic congressman from Massachusetts frames the juvenile justice system not as an illness, but a symptom of the deeper illness of poverty.
MEMBER REQUEST: The Use of Narrative in Addressing ACEs
Katrice Horsley is looking for your thoughts on the use of Narrative within communities, organizations and individuals, in light of growing neuroscience research showing the impacts of Narratives on the brain.
Trauma is a Gateway Drug, ACEsConnection.com
If drug use is a risk-taking factor, and we know that trauma is an indicator for premature risk taking, how can we start to change the direction of conversation to healing trauma as a preventative measure for drug use?
Key Ingredients for Successful Trauma-Informed Care Implementation, CHCS.org
Health care providers can address patients' traumatic experiences and their associated health effects by implementing trauma-informed approaches to care. Changing organizational culture and clinical practice to reflect trauma-informed principles has the potential to improve patient engagement, treatment adherence, health outcomes, and provider and staff wellness. This brief outlines a practical implementation framework and policy considerations for instituting trauma-informed approaches to care in health care settings.
Why Do Some Poor Kids Thrive? TheAtlantic.com
Researchers tracked hundreds of students in Baltimore to find out what top achievers had that others didn't.
Meet PRIME, the New App That Wants to Help End Schizophrenia, PSMag.com
Researchers from the University of California-San Francisco are turning to an unlikely source to combat schizophrenia: the very people suffering from the disease.
ACEs primer — great five-minute video that explains ACE Study, ACEsConnection.com
KPJR Films produced a short video to introduce ACEs.
Dr. Vincent Felitti speaks in Hagerstown, MD, ACEsConnection.com
On Monday, March 21, 2016, over 400 social workers, educators and more filled the gymnasium of Bester Elementary School in Hagerstown, MD, as leading trauma experts from across the nation linked findings from the ACE Study with staggering proof of health, social, and economic problems resulting later in life.
The Lifelong Health Toll of Schoolyard Racism, PSMag.com
New research is uncovering the particularly damaging health effects of experiencing racial discrimination in childhood — and showing just how long those effects can last.
How the Federal Government Plans to Stop the 'Worst-Case' Housing Crisis, CityLab.com
The National Housing Trust Fund will give housing assistance to the very poorest households in the nation.
Communities Need to Help Heal the Traumatized Juvenile Delinquent, JJIE.org
If communities are ready to address juvenile delinquency in ways that best protects the community and offers the youth a healthy, productive future, then communities must agree to be part of the solution.
MARC Advisor: Brenda Jones Harden, PhD, ACEsConnection.com
Dr. Brenda Jones Harden is Associate Professor in the Department of Human Development and Quantitative Methodology at the University of Maryland College Park. Her research examines the developmental and mental health needs of children at environmental risk, especially those who have suffered maltreatment or trauma.
Colleges Need to Do More to Support Poor Students, PSMag.com
A new report from the Department of Education calls on schools to improve the graduation gap.
Mental Illness Mostly Caused by Life Events Not Genetics, Argue Psychologists, Telegraph.co.uk
While there has been some success in uncovering genes which make people more susceptible to various disorders, specialists say that the true causes of depression and anxiety are from life events and environment, and research should be directed towards understanding the everyday triggers.
The Growth of Concentrated Poverty Since the Recession, in 3 Infographics, CityLab.com
A new analysis by the Brookings Institution shows increases in two-thirds of the largest U.S. metros.
Don't Let Defensiveness Stand in the Way of Personal Growth, PsychCentral.com
Defensive walls go up quickly when we feel unappreciated or disrespected. The walls are meant to keep out unfairness and negative evaluations of our choices and behaviors. But what it often shuts out is self improvement.