There can be no keener revelation of a society's soul than the way in which it treats its children."
– Nelson Mandela, Former President of South Africa
Learn about the CASA guardian ad-Litem program and how your can make life better for abused and neglected children – Today, there are over 125 abused and neglected children in Ramsey & Hennepin County child protective services without a guardian ad-Litem.  Please help the program by sharing this with your friends and networks.
All Adults Are The Protectors of All Children  –  Get the lastest edition of CASAMN News here;
Volunteer Spotlight: David Nelson
David Nelson, 2nd District GAL Program, is one of Minnesota Justice Foundation's 2015 Outstanding Service Award Winners!  On Wednesday, November 11,  MJF hosted its Annual Awards Celebration, at which outstanding individuals in the Minnesota legal community were honored. David, a law student at Hamline University School of Law, was named the Law Student Award Winner.  David volunteered over 200 service hours with the goal of increasing access to justice for disadvantaged individuals.
David completed Pre-Service training and took his first guardian ad litem case assignment on October 15, 2015.  David has found the greatest reward so far in seeing the smiles on children's faces despite their dire circumstances.  He has also enjoyed the opportunity to ensure that their best interests are protected through his advocacy.
As for challenges, David quickly found himself in the middle of some trying family dynamics that hurled him squarely in the center of their conflict.  He found it stressful at first, but successfully figured out how to keep his personal opinions at bay and to deal with the situation at hand.
Does he have a success story to share?
David recently had a positive experience in making a recommendation that was endorsed by the judge.  He advocated that a parent on his case be ordered to undergo hair follicle testing to verify her sobriety.  David had noted several concerns that caused him to doubt her sobriety despite other negative test results.  The judge concurred with him and ordered that the hair follicle test be completed.
If you had a magic wand, what would you change?
David would like all children to have loving, caring, supportive parents so that they would never have to enter the child protection system.
Favorite book . . .
"The Secret" by Rhonda Byrne
Kusek Receives Significant Community Honor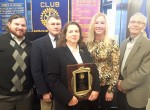 Shown at the award ceremony: Laurie's son, Tom Gendron; significant other, Rick Maday; Laurie Kusek, 4th District;  Dana Ahlness, 2nd District; and Mike Tikkinan, CASA Minnesota Board member.
Congratulations to our very own Laurie Kusek, Board President of CASA Minnesota for receiving one of Minneapolis City of Lakes Rotary's most significant annual awards, the John Fischer Rotary Hope Award.
The Hope Award, the highest honor that the Club presents each year to a community member, was given to Laurie for her volunteer leadership.  Since 1987, the Rotary Hope Award has been given annually to a person or nonprofit organization that is making a significant difference in the lives of others through unique dedication and passion.
Minneapolis City of Lakes Rotary is comprised of more than 120 local business and industry leaders.  Laurie was unanimously declared the deserving winner of this prestigious award.  Kudos to Laurie for all of her work with CASA MN in supporting the recruitment, training and retention of volunteer guardians ad litem.
A Woman to be Admired: Marilyn Karasov
Hats off to 4th District volunteer Marilyn Karasov. She participated in her third National Senior Games (85-89 age group) in Minneapolis earlier this year and won her third tennis medal, a bronze in women's singles. She also participated in mixed doubles this time. She has been with the GAL program since the Fall of 2013 and is the mother of District Judge Fred Karasov who used to serve in Juvenile. She currently has three cases and celebrated her 89th birthday December 10.
(Have news to share about yourself or other GALs?  Have news/events impacting GALs?  Please send your info to Michelle Johnson (michelle.johnson@courts.state.mn.us) for inclusion in the next newsletter!
Upcoming Training Opportunities
2nd District:

Wednesday, February 10, 5:30-7:30 p.m., Juvenile Court Evening Case Consultation; GAL conference room

Wednesday, February 17, 11:30 a.m. – 1 p.m., GAL Safety, Brown Bag, Steve Horgan, Juvenile Probation; GAL conference room

Wednesday, March 16, 11:30 a.m. – 1 p.m., Overview of New Intake Screening Guidelines, Jen McConnell, RCCHSD; GAL conference room

4th District: 

Wednesday, February 10, 11:45 a.m. to 1 p.m., Meet and Greet with Judge Lyonel Norris. RSVP to Josefa.miller@courts.state.mn.us

CASA Minnesota Training and Recognition Event

When: Friday, February 19

Program: 10 a.m. – noon, followed by a lunch and volunteer recognition until 1 p.m.

Speaker: Carole Wilcox, Director of  Child Safety and Permanency Division, DHS. Come hear an overview of the Governor's Task Force on the protection of children and resulting recommendations; implementation workgroups and their status/progress to date; highlights form the revised Screening Guidelines; and next steps on child protection system efforts.

Location:  TIES Event Center, 1667 Snelling Ave. N., St. Paul

Volunteers and employee GALs from the 2nd and 4th Districts are invited to attend, as well as Safe Passages volunteers.

ICWA Training (Core)

The State GAL Program announced registration is now open for upcoming training.

When:  Friday, January 29, 2016. 9 a.m. – 4:30 p.m.

Registration: Early registration is greatly appreciated in order to ensure enough space to accommodate the class. Registration deadline is Friday, January 15:

https://www.surveymonkey.com/r/ICWA-2016-01

Presenter: Hon. Anne McKeig, 4th Judicial District

Location (subject to change due to class size and space availability):
Second District GAL Conference Room, Ramsey County Juvenile & Family Justice Center, 25 West 7th St., St. Paul. About one week before the class, you will be notified of more specific details such as time, location, parking info, etc.Please let us know as soon as possible if you need to cancel a registration so that the seat may be made available to another participant.
Program Statistics
Ramsey County – 2nd District

Number of volunteers – 112

Number of children served – 1008

Hennepin County – 4th District

Number of volunteers – 237

Number of children served – 2439
Shop for CASA Minnesota !
Goodshop is a site where you could save money and help a cause. It has coupons and deals for thousands of stores (e.g., Amazon, Target, Macys, Apple). A percentage of virtually every purchase will go back to CASA. Simply click here and search CASA Minnesota!

AmazonSmile is a website operated by Amazon with the same products, prices, and shopping features as Amazon.com. The difference is that when you shop there, the AmazonSmile Foundation will donate a percentage of the purchase price of eligible products to CASA Minnesota. Just click here and search for CASA Minnesota!
About Us
CASA Minnesota

CASA Minnesota is a local nonprofit organization whose mission is to support and promote volunteer advocates to ensure that every abused and neglected child in Minnesota has a safe, stable and permanent family. Our advocates are everyday citizens who become extraordinary volunteers. Judges appoint volunteer advocates to speak for the safety and well-being of a child in the court system. CASA Minnesota volunteers stand up for these children and help change their lives.

To learn more about our organization and the wonderful work that CASA Minnesota volunteer advocates provide for abused and neglected children, please call us at 612.728.5930 or visit us at