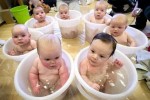 Oversight of psychiatric meds for youth offenders lacking
Citizens Voice – October 28, 2015
While other states have reformed the way they control and track such medications so that it is done systemwide, the Pennsylvania Department of Human Services follows only the total amount paid for the drugs prescribed in its six facilities on a systemic basis.
http://citizensvoice.com/news/oversight-of-psychiatric-meds-for-pa-youth-offenders-lacking-1.1963601
Group behind controversial ads targeting Supreme Court candidate raises more accusations
Pittsburgh Post Gazette – October 27, 2015
A battle over what may be the most contentious TV ad of the state Supreme Court race — a spot targeting Democratic Judge Kevin Dougherty — continues, with lawyers trading letters and accusations. Today, the group behind that campaign alleged that Judge Dougherty had reason to know he?d placed a 10-year-old with a convicted murderer, years before police would charge the adult with horrific acts of abuse.
http://www.post-gazette.com/news/politics-state/2015/10/27/Group-behind-controversial-ads-targeting-Philadelphia-judge-steps-up-it/stories/201510270212
Budget Impasse Threatening Services For Foster Children
CBS Philadelphia – October 25, 2015
Pennsylvania's state budget impasse has stopped funding for child welfare agencies, including those that provide for foster children and foster parents. Now, a lawsuit has been filed to get those funds flowing again.
http://philadelphia.cbslocal.com/2015/10/25/pa-budget-impasse-threatening-services-for-foster-children/
Drugged into submission: Pa. youth correctional facilities dish out high levels of mood-altering psychiatric medications
Pocono Record – October 24, 2015
In the months they spend at correctional facilities, they receive mood-altering psychiatric medications at strikingly high rates, particularly antipsychotic drugs that expose them to significant health risks.
http://www.poconorecord.com/article/20151024/NEWS/151029690/-1/LIVING2002
Center detaining migrant families could lose license
News Works – October 23, 2015
Immigration rights activists are hailing a decision by the Pennsylvania Department of Human Services threatening to not renew the license for a controversial family detention center in Berks County.
http://www.newsworks.org/index.php/homepage-feature/item/87536-pa-center-detaining-migrant-families-could-lose-license
State threatens to revoke license of family detention center
McClatchy DC – October 22, 2015
The state of Pennsylvania is threatening to revoke the operating license of the only licensed family detention center in the country, threatening federal efforts to comply with a looming court deadline to stop extended detention of migrant children and their parents.
http://www.mcclatchydc.com/news/immigration/article40857366.html
New law spurs sharp increase in child abuse investigations
Lancaster Online – October 20, 2015
A new state law has led to a doubling of reports of suspected child abuse in Lancaster County this year. Many of those reports have turned out to be unfounded, but the number of substantiated cases appears to be running about 20 percent ahead of last year.
http://lancasteronline.com/news/local/new-law-spurs-sharp-increase-in-child-abuse-investigations/article_4faceb76-743c-11e5-9fa4-7fa0214d544e.html
Republican lawmakers want to give $3 billion in 'lifelines' to struggling schools, human service providers (Includes video)
Penn Live – October 19, 2015
The $3 billion would cover public and nonpublic education costs, including money for transportation, books, materials, equipment and programs. The money would also provide funding for rape crisis and domestic violence programs, child welfare services and other human services.
http://www.pennlive.com/politics/index.ssf/2015/10/republicans_offering_3_billion.html
School Can't Duck Child-Abuse Charges
Courthouse News Service – October 16, 2015
Pennsylvania school officials must face claims that they ignored signs that a teacher – now in prison for child sexual abuse – would assault second-graders, a federal judge ruled.
http://www.courthousenews.com/2015/10/16/school-cant-duck-child-abuse-charges.htm
Fayette youth chief wants to borrow to keep agency going
Pittsburgh Tribune-Review – October 15, 2015
Gina D'Auria on Thursday said she has managed to meet payroll, pay service providers and cover foster parents' monthly stipends by using unspent money from the previous fiscal year. But that cash is about to run dry as the budget impasse enters its 108th day.
http://triblive.com/news/fayette/9270612-74/budget-auria-pay#axzz3ojqtRouU
Committee formed to investigate Children and Youth claims
Citizens Voice – October 14, 2015
Responding to a scathing report about Luzerne County Children and Youth following the death of a child, the agency's advisory board on Wednesday voted to create a committee that will investigate concerns levied by state regulators.
http://citizensvoice.com/news/committee-formed-to-investigate-children-and-youth-claims-1.1958081
Budget impasse forces Cumberland County to make changes (Includes video)
WHTM – October 13, 2015
"We're looking at our foster care services and many of our placement services are the most expensive services to our agency," McElwee said. "They're the ones we do get reimbursement from the state, which is what we're not receiving right now."
http://abc27.com/2015/10/13/budget-impasse-forces-cumberland-county-to-make-changes/
Police Fielding More Child Abuse Reports
The Sanatoga Post – October 12, 2015
The series of laws approved in Pennsylvania during the past two years to protect children from abuse and neglect, portions of which took effect this year, have increased the number of alleged abuse cases being received by the Lower Pottsgrove police department, its chief told the Board of Commissioners.
http://sanatogapost.com/2015/10/12/police-fielding-more-child-abuse-reports/
Pennsylvania Council Of Children, Youth & Family Services Sues State To Force Foster Care Payments During Budget Impasse
Open Minds – October 11, 2015
On September 15, 2015, the Pennsylvania Council of Children, Youth and Family Services (PCCYFS) sued the state to force the Department of Human Services (DHS) to release funds for non-Medicaid child welfare and juvenile justice services. Since July 1, 2015, Pennsylvania has been without a signed budget. During this period, DHS has lacked authority to pay certain contractors. This includes organizations that have contracts with county children and youth offices to provide a range of non-Medicaid interventions for children and families involved with the child welfare and juvenile justice systems.
https://www.openminds.com/market-intelligence/news/pennsylvania-council-children-youth-family-services-sues-state-force-foster-care-payments-budget-impasse.htm/
Who is running out of money during Pennsylvania's budget impasse? (Opinion)
PennLive – October 08, 2015
Pennsylvania schools are have trouble paying bills, nonprofit organizations may have to close doors and others are in trouble after nearly 100 days without a state budget.
http://www.pennlive.com/politics/index.ssf/2015/10/who_is_running_out_of_money_du.html#0
Boy's death led to Children and Youth license downgrade
Standard Speaker – October 07, 2015
The critical report by the state Office of Children, Youth and Families — an agency of the Pennsylvania Department of Human Services — downgraded Luzerne County Children and Youth's operating license to provisional status. The report does not name Wilkes, but criticizes Luzerne County Children and Youth's decision to place the four children with a "relative" without checking background clearances or reviewing internal agency records of the person.
http://standardspeaker.com/news/boy-s-death-led-to-children-and-youth-license-downgrade-1.1954068
Somerset County to halt payments to vendors
Tribune-Democrat – October 06, 2015
Some of those vendors are service providers or placement providers, such as foster parents and facilities, according to Somerset County Children and Youth Services Director Chuck Crimone.
http://www.tribdem.com/news/somerset-county-to-halt-payments-to-vendors/article_f802aa9e-6c90-11e5-b01d-dbc673b126a4.html
Committee to consider bill that would allow sharing of child abuse info
Pottstown Mercury – September 23, 2014
The House Children and Youth Committee will hold a voting meeting on Senate Bill 27 on Wednesday. The bill, sponsored by Sen. Bob Mensch, R-Montgomery, seeks to improve the exchange of information among medical practitioners and county child welfare agencies regarding child abuse.
http://www.pottsmerc.com/general-news/20140923/committee-to-consider-bill-that-would-allow-sharing-of-child-abuse-info
With Corbett's approval, Pa.'s Public Welfare getting new moniker
Newsworks – September 21, 2014
But DPW Secretary Bev Mackereth said "public welfare" doesn't accurately represent her agency, which also provides child protection, mental health services, and health care. "When you talk about just giving dollars to individuals who could be working — that's not who we are anymore," Mackereth said. "That's not what we do."
http://http://www.newsworks.org/index.php/homepage-feature/item/72988-with-corbetts-approval-pas-public-welfare-getting-new-moniker
The Clinton County caseworker who broke open the Sandusky child sex scandal
Philladelaphia Inquirer – September 22, 2014
Jessica Dershem, a 32-year-old caseworker with the Clinton County Children and Youth Services department, investigates custody disputes and claims of child abuse and neglect. She handles 12, maybe 15, cases each year. Most never make the news – because they don't involve someone like Jerry Sandusky.
http://www.philly.com/philly/news/20140922_The_Clinton_County_caseworker_who_broke_open_the_Sandusky_child_sex_scandal.html
Wissahickon home now an oasis for homeless moms and kids
Philly.com – September 20, 2014
The Ancient Stone mansion, high on a hill along Ridge Avenue in Wissahickon, began life as the Northern Home for Friendless Children. But as the public can see at today's open house, the re-christened Northern Children's Services is a modern residential godsend for homeless teenage mothers and their kids.
http://www.philly.com/philly/news/20140921_Wissahickon_home_now_an_oasis_for_homeless_moms_and_kids.html#XJ9ca3pRURq5pjFt.99
Effort to broaden adoptees' rights to get birth information gets Pennsylvania Senate committee's approval
The Patriot News – September 16, 2014
A compromise effort to give adopted persons dramatically expanded rights to seek the identity of their birth parents passed through state Senate's Aging and Youth Committee Tuesday on a 9-2 vote.
http://www.pennlive.com/midstate/index.ssf/2014/09/effort_to_broaden_adoptees_rig.html
Department of Public Welfare Awards Nearly $1 Million to Prevent Child Abuse and Neglect
PR Newswire – September 12, 2014
The Department of Public Welfare (DPW) today announced it has awarded $940,450 in Children's Trust Fund grants to eight Pennsylvania organizations. The grants are aimed at creating better outcomes for Pennsylvania children through programs preventing child abuse and neglect. http://markets.financialcontent.com/salemcomm.kdow/news/read?GUID=28201256
Along with increased child-abuse reports, costs expected to rise
Lancaster Online – September 10, 2014
New state laws require faster reporting of child abuse and more involvement by county caseworkers.
http://lancasteronline.com/news/local/along-with-increased-child-abuse-reports-costs-expected-to-rise/article_d66943fc-392e-11e4-8628-001a4bcf6878.html
Changes could strain child protection system
Sharon Herald – September 06, 2014
Dramatic changes in child protection laws could strain the system meant to intervene and stop abuse, but state and county leaders are struggling to understand just how much.
http://www.sharonherald.com/news/article_ab69c1fe-3569-11e4-ac28-001a4bcf887a.html
Dover to update its child abuse reporting policy
York Dispatch – September 02, 2014
The law, which passed on the heels of the Jerry Sandusky sex scandal at Penn State, requires that all school district employees, not just administrators and teachers, report suspected abuse to the state Department of Welfare within 48 hours.
http://www.yorkdispatch.com/breaking/ci_26455677/dover-update-its-child-abuse-reporting-policy
Pa. youth mental health facility ordered shut amid sexual abuse allegations
Philly Voice – October 08, 2015
The Pennsylvania Department of Human Services announced Thursday it will revoke the license of Zelienople-based Glade Run Lutheran Services amid allegations of child sexual abuse and other employee misconduct within the organization. The residential treatment facility, licensed by DHS to serve adolescents and children diagnosed with mental health conditions, has been ordered to shut down within 30 days in order to ensure transitions for the kids currently under its care, according to a news release.
http://www.phillyvoice.com/pa-youth-mental-health-facility-ordered-shut/
Pennsylvania Won't Disclose Names of Doctors Prescribing in Youth Corrections
Juvenile Justice – November 1, 2015
Pennsylvania defied an Office of Open Records ruling and took the matter to court to conceal the names of doctors prescribing to kids confined in its six correctional facilities.
http://jjie.org/pennsylvania-wont-disclose-names-of-doctors-prescribing-in-youth-corrections/148864/
Pennsylvania Receives $886,200 Award to Fund Planning Support for Certified Community Behavioral Health Clinics
PR Newswire – Oct 22, 2015
Today, the Pennsylvania Department of Human Services (DHS) announced that the Substance Abuse and Mental Health Services Administration (SAMHSA) awarded an $886,200 grant to the department for the planning of Certified Community Behavioral Health Clinics (CCBHCs).
http://www.prnewswire.com/news-releases/pennsylvania-receives-886200-award-to-fund-planning-support-for-certified-community-behavioral-health-clinics-300164877.html
Schools step up social services in hopes of improving education
Pittsburgh Post-Gazette – September 6, 2015
Using their own staff and community partners, public schools are finding ways to address the many needs of children — such as hunger, homelessness, violence in their homes or communities, grief, mental health issues and inadequate clothing — that are barriers to their learning.
http://www.post-gazette.com/news/education/2015/09/06/Schools-step-up-social-services-in-hopes-of-improving-education/stories/201509060220
Pennsylvania Foster Kids Prescribed Too Many Psychotropic Drugs
Mad In America – September 10, 2015
Amid growing criticism about the over-prescription of psychotropic medication in foster care, Pennsylvania commissioned PolicyLab to conduct an analysis of the use of psychiatric drugs among all of the state's Medicaid-enrolled children.  The report, released in June, found that the rates of psychotropic prescriptions among youth in Medicaid and foster care are higher than previous estimates.
http://www.madinamerica.com/2015/09/pennsylvania-foster-kids-prescribed-too-many-psychotropic-drugs/
The Catholic Church is fighting to block bills that would extend the statute of limitations for reporting sex abuse
Reuters – Sep. 10, 2015
Mark Rozzi says he was 13, a young altar boy, when a priest at his eastern Pennsylvania parish sexually assaulted him in a shower. It took Rozzi, who says the priest spent a year grooming him with trips to McDonald's and secretly shared beers, a quarter century to talk about the experience publicly. By then it was too late for any legal action.
http://www.businessinsider.com/r-as-pope-visit-nears-us-sex-victims-say-church-remains-obstacle-to-justice-2015-9
Former child abuse prosecutor to head Dauphin County youth agency
ABC27 – September 16, 2015
A former child abuse prosecutor has been hired as the new administrator for Dauphin County Children and Youth Services. Annmarie Kaiser will oversee improvements to the agency following the death of Jarrod Tutko Jr., a 9-year-old boy found who was severely neglected and malnourished before he died in a feces-covered bedroom just months after CYS caseworkers visited his Harrisburg home last year.
http://abc27.com/2015/09/16/former-child-abuse-prosecutor-to-head-dauphin-county-youth-agency/
Audit slams PA Department of Education for 'neglecting' schools
FOX43 – October 6, 2015
The Auditor General slammed the PA Department of Education in a new audit released Tuesday, saying that it has been neglecting schools in need and wasting taxpayer money. Auditor General Eugene DePasquale says PDE is the 'least cooperative' agency he's ever worked with, and the report shows Pennsylvania children are at the mercy of a 'ruddlerless ship.' "Our job is to give every one of those kids an equal shot," says DePasquale, "it's not an equal outcome, but an equal shot, and right now that is not happening in Pennsylvania."
http://fox43.com/2015/10/06/audit-slams-pa-department-of-education-for-neglecting-schools/
Number of uninsured Pa. kids declined slightly last year, study finds
Pittsburgh Post-Gazette – October 28, 2015
More than 139,000 Pennsylvania children did not have health insurance last year, according to a study released Wednesday.
http://www.post-gazette.com/news/health/2015/10/28/Number-of-uninsured-Pennsylvania-children-declined-slightly-last-year-study-finds/stories/201510280166
Children & Youth Services makes life-saving changes in wake of 9-year-old's death
FOX43 – September 2, 2015
It's been just over a year since the horrific death of nine-year-old Jarrod Tutko Jr., who died after a lifetime of neglect. His death revealed dysfunction and disarray within Dauphin County Children and Youth Services. Caseworkers visited the home, and there were repeated calls for help- including from a hospital and a school, on behalf of his siblings. But in the end, the calls were missed, and Jarrod was found dead weighing 16 pounds. The state placed CYS on a provisional license after it was revealed that caseworkers were overworked and "didn't know how to do their jobs," sometimes crying at their desks.
http://fox43.com/2015/09/02/children-youth-services-make-life-saving-changes-in-wake-of-9-year-olds-death/
Pope Francis Philadelphia visit: Victims of clergy abuse will sit this one out
PennLive – September 23, 2015
Rozzi, who was 13 when he and two other friends were sexually molested by priests in the Philadelphia Archdiocese, has long been at odds with the church. One of the priest died in 1999, having never been prosecuted for the alleged crimes as a result of expired statute of limitation. Rozzi's two childhood friends committed suicide. He has for years pushed in the House, legislation that would amend the statute of limitation. The bills would largely lift the expired limitations for prosecution and allow adults abused as children by clergy to press charges against their alleged abusers.
http://www.pennlive.com/midstate/index.ssf/2015/09/pope_francis_philadelphia_visi_37.html
Pennsylvania Department of Human Services Receives Best of the Web Digital Government Achievement Award
PR Newswire – Sep 03, 2015
Today, the Department of Human Services (DHS) received the Center for Digital Government's 2015 Digital Government Achievement Award for implementation of Pennsylvania's online automated child abuse history clearance application, a new process under the Pennsylvania Child Welfare Information Solution (CWIS).
http://www.prnewswire.com/news-releases/pennsylvania-department-of-human-services-receives-best-of-the-web-digital-government-achievement-award-300137873.html