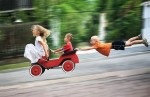 Brandon Stahl's reporting (September 2014) on the tortured death of 4 year old Eric Dean and his  powerful Star Tribune articles about tortured children & the "catastrophic failure" of child protection in Minnesota (Governor Dayton's words), shine light into the invisible world of child abuse that is so hard to talk about and so easy to avoid.
Rich Gehrman & Safe Passage For Children of MN worked with and reported on Governor Dayton's Task Force On Child Protection, organized 100 volunteers to speak out and call on legislators to raise awareness and bring positive change to the 60,000 Minnesota children reported to Child Protection services each year.
Rich and Brandon have almost single handedly awakened Minnesota's lawmakers and citizens into changing some of the bad laws and policies that made life so painful for Eric Dean and thousands of other children like him.
They call upon us to look at what we are doing to very young children by ignoring their beatings, murders and suicides.
Children in toxic homes without reporting by mandated reporters or community help have no voice and face decades of trouble and failure triggered by the trauma of abuse and neglect that the medical community has firmly established can last a lifetime. What would a 2 or 4 year say if she could tell someone? Who would she tell -her abusive parent or parents, a legislator, the police or a 3 year old friend?
A child does not recognize his own abuse as abuse– only that this is my life, tortured as it is.
Change will take all of us; citizens, legislators, educators, justice and law enforcement to recognize the depth and scope of our child protection crisis, our foster care and adoption problems, the mental health issues of traumatized children & the impact at risk youth are having on our schools, courts and justice systems.
Brandon's reporting and Rich's activism are leading policy makers to recognize the impact of abuse on children, how abused youth impact this community and most of all, what we must do to make life better for Minnesota's *tortured children.
*The World Health Organization defines torture as "extended exposure to violence and deprivation".  All of the fifty children I worked with as a volunteer County guardian ad-Litem suffered from extended exposure to violence and deprivation (about half of my caseload had been sexually abused – almost all under ten years of age when the abuse happened).
Support Safe Passage For Children
Volunteer with the organization to advocate for children
Learn About being a Court Appointed Special Advocate for abused and neglected children
Become a volunteer CASA MN guardian ad Litem (and help children in the child protection system)
Sign up for KARA'S weekly (Friday 9am Central Time) news update
(Study these links if your state doesn't have a Safe Passages For Children or CASA guardian ad Litem program).