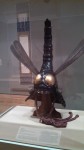 This Pennsylvania sad story of six police officers beating and robbing suspects, planting evidence and doctoring paperwork to obtain over 560 false convictions (that are now being vacated) follows on the heels of the State's recent incarceration of two Pennsylvania judges for over 4000 false convictions that sent thousands of innocent juveniles to jail because millions of dollars in cash bribes were paid them by privatized prison businesses (more about Pennsylvania judges).
This should cause us all to appreciate the value of transparent and accountable public service institutions.
Just a tiny percentage of creepy court and police officials can ruin the lives of thousands of innocent people (and their families) for a long, long time.
The critical roles these institutions play in our everyday lives gets almost no attention until it happens to you or someone you care about.  When it's your son that gets beat up and jailed for something he did not do by a person that is the justice in your community, then you are outraged.  Until it's a family member or friend we tend to think it can't happen here.
If you know anyone that has had a terrible experience, ask them to share what it's like to be a victim of that kind of abuse.  There is rarely any accountability, any resolution or punishment for the great majority of this kind of misfeasance or malfeasance.
These awful stories are a powerful argument for advanced training and funding for the people and institutions that literally rule our lives.
Think hard about under-funding your courts, criminal justice or other important service providers that impact all of our lives.
In Flint Michigan during the recession, the police department was so underfunded that officers went home at 5 pm and no one answered the phone from 5 pm to 8 am.  If you called during business hours, the police were so overwhelmed that only calls involving dead bodies and dying people received timely police responses.
No one wants to live in a city where the police beat and incarcerate innocent people or judges take illegal commissions for sending innocent children (guilty or not) to jail.
Pennsylvania is one of several states where institutional failure has reached crisis limits and causing repeated immense and criminally wrong suffering by thousands of innocent children and their families.
Demanding and paying for honest and effective public services is a required to have them.  .
All Adults Are Protectors of All Children
Thomas Liciardello, Brian Reynolds, Michael Spicer, Perry Betts, Linwood Norman, and John Speiser—were indicted by a federal grand jury in July 2014 and accused of doctoring paperwork, planting evidence, and beating and robbing suspects. They were acquitted of all charges in May. A seventh officer, Jeffrey Walker, pleaded guilty to separate corruption charges and testified against the other six.
The people sent to jail by the judges were almost always genuinely innocent – never having broken the law.
What's it like to live in a state where the law incarcerates your child for profit, or the police are so poorly managed that they can beat people up, lie, cheat, steal and incarcerate based on false evidence?
A Pennsylvania judge was sentenced to 28 years in prison in connection to a bribery scandal that roiled the state's juvenile justice system. Former Luzerne County Judge Mark Ciavarella Jr. was convicted of taking $1 million in bribes from developers of juvenile detention centers. The judge then presided over cases that would send juveniles to those same centers. The case came to be known as "kids-for-cash."
The AP adds:
The Pennsylvania Supreme Court tossed about 4,000 convictions issued by Ciavarella between 2003 and 2008, saying he violated the constitutional rights of the juveniles, including the right to legal counsel and the right to intelligently enter a plea.

Ciavarella, 61, was tried and convicted of racketeering charges earlier this year. His attorneys had asked for a "reasonable" sentence in court papers, saying, in effect, that he's already been punished enough.

"The media attention to this matter has exceeded coverage given to many and almost all capital murders, and despite protestation, he will forever be unjustly branded as the 'Kids for Cash' judge," their sentencing memo said.
The Times Leader, of Wilkes-Barre, Pa., reports that the court house in Scranton was overflowing this morning. More than a dozen people who said they had been affected by the judge's decision stood outside, awaiting the sentencing.