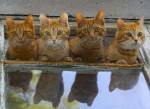 For many years, we have fed younger and younger people into our Criminal Justice System and gotten the same results over and over again as recidivism rates approach 70% (Juvenile Justice recidivism is not tracked in 11 states and narrowly tracked elsewhere).
Evidence overwhelmingly indicates that abused and neglected children, mostly from families suffering from generation after generation of child abuse, fuel the furnace of the Juvenile Justice System.  It has become common to charge 12 and 13 year old children as adults in the Criminal Justice System, some as young as 8 years old.  Pennsylvania recently charged a 10 year old as an adult.  
3000 children have been sentenced to life imprisonment without the possibility of parole, some as young as 13 (sentenced to die in prison).
Yesterday's article on tasing 3rd graders & expelling preschoolers at many times the rate of other industrialized nations is snapshot into the dysfunctional elements of our institutional approach to dealing with the mental health issues of children, primarily abused and neglected children, that enter Juvenile Justice Systems where we under-treat or ignore their mental health problems.
Today, I draw your attention to some of the worst practices within Child Protection Services and the Juvenile Justice System and ask you to reflect on how these practices relate to the frightening violence and dismal news that pervades our media and daily lives.  Social death…
is how social psychologist Craig Haney describes solitary confinement.  Juveniles have been subjected to extended periods of rigid and cruel solitary confinement even though there is substantial proof that it physically alters the brains in remarkably negative ways and produces tons of rotten short and long term effects.
14 states have no minimum age for trying children as adults.
Who are the youth streaming into our jails, prisons and Juvenile Justice Systems?
 In St Paul MN, the ACEs study found that the 8% of children 12 and under who become the juveniles that commit 70%  of all of the violent and dangerous crimes committed by juveniles in that city were committed by youth from 2 to 4% of the families within the city.
MN's former Supreme Court Chief Justice Kathleen Blatz states it this way, "90% of the youth in our Juvenile Justice System have come through Child Protection" and "The difference between that poor child and a felon, is about 8 years".  
Today, 10,000 children are living in adult jails and  prisons where they are 5 times more likely to be sexually abused and much more likely to commit suicide.  2/3 of the youth in Juvenile Justice Systems suffer from mental health problems, half that number from severe, multiple and chronic mental health issues.
What's our answer to very young children being raised in toxic homes who act out, screaming for help and attention?
Too much Prozac (video), Solitary Confinement and Adult Prison.
"What we do to our children, they will do to society" (Pliny the Elder 2000 years ago)
All Adults Are The Protectors of All Children
Read more here;
www.jailexchange.com/…juvenile–detention–centers…juvenile…/jailex-rat…
Feb 20, 2011 – There are 1,315 County Juvenile Detention Centers in America … If we had to point out one state that is consistently the worst offender, we …
www.motherjones.com/…/america-10-
worst
–
prisons
-walnut…
May 13, 2013 – The youth prison's record on rape was the worst "of any facilityanywhere in the nation." Richard Ross, Juvenile-in-Justice. Part 9 of an 11-part …
www.cbsnews.com/news/locked-inside-a-nightmare/
When 14-year-old Sara Lowe was arrested, her parents thought it was a blessing. They thought she was going to a new kind of juvenile detention facility – a …
---
---
Best & Worst States For Child Protection;
www.invisiblechildren.org/2014/…/best-worst–states-for-americas-childre…
Jan 1, 2014 – Where does your state rank in protecting children & what can you do to make improvements. These stories tell the best and worst of what's …
wallethub.com/edu/best-worst–states-underprivileged-children/5403/
2014′s Best and Worst States for Underprivileged Children. Share …. What are the key issues (e.g., abuse, homelessness, etc.) that are affecting children in the  …
nccpr.info/
The members of the National Coalition for Child Protection Reform have … Our interactive database showing which states overuse the worst forms of care, and …
You've visited this page 3 times. Last visit: 7/24/15
www.huffingtonpost.com/…/guess-which-
state
-does-…
Nov 14, 2014 – Florida's infamous status as arguably the worst state in the country forprotecting children remains intact. That's despite rivalries from dirt-poor …
www.huffingtonpost.com/…/the-10-
worst
–
states-for-
…
Sep 16, 2014 – Two years ago, the Sandy Hook school shooting reminded us that places we assume are safe, like our children's schools, can quickly become …
www.thenewsherald.com/…/doc4f25b2318586714791…
Jan 29, 2012 – The 10 worst states for kids to grow up – NEW YORK — Oh, children. When will they learn? Never, it turns out, if they happen to live in one of the …
datacenter.kidscount.org/
A project of the Annie E. Casey Foundation, KIDS COUNT is the premier source for data on child and family well-being in the United States. Access hundreds of …
www.neatorama.com/…/The-Best-and-Worst-Things-About-US-States/
Mar 19, 2014 – Illinois, Best animal protection laws, Worst State for nonprofit agencies. Indiana, Best parental involvement in children's education, Most toxic  …