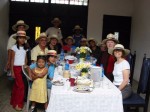 March 1 – Invisible Children
Join us at Pilgrim House Unitarian Universalist Fellowship, 1212 W Highway 96, Arden Hills MN 55112
Mike Tikkanen & Tiffini Flynn Forslund are board members at KARA, Kids At Risk Action working to bring attention and support for the people, policies, and programs that improve the lives of to at risk youth.
Mike & Tiffini have been volunteer Hennepin County guardian ad-Litems.  Mike is also a CASAMN board member & founder of KARA, Kids At Risk Action with a mission to speak for the rights and awareness of abused and neglected children. KARA's current project is a television documentary/expose with TPT – advisor on our project is Don Shelby.
By generating conversation and exposing facts that many are afraid or unable to speak about, we will discuss the critical issues facing abused & neglected children. Mike and Tiffini identify the problems children, schools, and neighborhoods face daily because of poor public policy and the dysfunction created by lack of awareness within our community. The KARA website is http://www.invisiblechildren.org.
Following the program are Soup Sunday and the Annual PH Auction.  2 minute KARA movie trailer
Share this with your friends, contact us and invite KARA to speak at your next event.