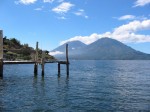 Strangled dead tangled in a jump rope is not something that happens to six year old children (Star Tribune today)
As a Hennepin County CASA volunteer guardian ad-Litem, I watched abused and neglected children, traumatized children, whether they be two, four, or six years old, do terribly destructive things and try to kill themselves.  My first visit to a four year old CASA case girl was at the suicide ward of Fairview hospital.  She had watched the beatings and rape of her mother and sister (who was three years older than her) for most of her four years on earth.  Think of the terror going through a child's mind watching drug crazed, violent, and sexual abuse of your mom and sister.  It changes a person.
I've written about the seven year old foster boy who hung himself and left a note about how he hated being forced to take Prozac.  Children in foster care are often medicated to keep them from hurting themselves and others.  You really don't get into foster care unless you have been traumatized and behavioral issues are endemic to trauma victims.  A very real side effect of psychotropic medications is suicidal ideation (fully formed thoughts of killing yourself, delivered by your brain – like a daytime nightmare).
The article in the Tribune makes Kendrea's death sound like a pretty normal young child accident (Wow).  Her younger brother was born drug addicted (the womb has no barrier to protect an infant from drugs and alcohol).  Kendrea had been in a number of foster homes (one of my CASA case boys had been in 29 foster placements when he aged out of child protection).  This death was not normal.   Traumatized children need our help.  Tens of thousands of MN children are victims of the kind of abuse Kendrea lived with all of her young life.  Very few of them find the help they need to live a normal life.  It would be the right thing to do to deliver these children the help they need to make sure they do not injure themselves or others with dangerous behaviors.
Remember friends, we only read about children that die.  None of the 50 children in my case load ever made the paper.
Thank you Karen Zamora, Nicole Norfleet, Brandon Stahl and Star Tribune for giving voice to the voiceless children of Minnesota.
Safe Passage For Children Director Rich  Gehrman (2 minute video interview)
Documentary Trailer (2 minute video)