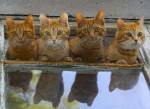 Over the years KARA has followed the deaths of children dying because their parents withhold medical treatments because of religious beliefs.  Beliefs similar to those that prompted the hanging and burning of innocent women as witches in Salem not that long ago.
It is hard to believe current laws deny minimal standards of health and well being for their youngest citizens.
Some states foster very child unfriendly laws concerning access to prenatal care, child health insurance or punishment for withholding available medical care from very ill children based on religious beliefs.
Are children property to be denied readily available medical care?
How often and how hard can you hit your toddler (ten times and leave them bleeding in Kansas and without healthcare )?
Can they be executed for rebellious behavior (Arkansas thought so)
What follows are some of the children that have died because parents refused their children medical care over the past few years.  If your state allows the burning of witches or withholding medical care to children make a call to your state representative/Governor, and let your opinion be known (remember, at risk children are too young to speak for themselves and have no voice but yours).
---
www.patheos.com/…/canadian-police-charge-parents-after-one-y…
Canadian Police Charge Parents After One-Year-Old Boy Dies Due To Faith-BasedDiet. December 15, 2014 by Terry Firma 0 Comments. In November of last ..
www.ktvb.com/story/news/local/2014/07/02/12073859/

Jan 22, 2014 – That's because a variety of religions practice faith-based healing, including the Oregon-based Followers of Christ, which includes members in  …