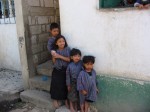 Over 25 years ago the rest of the world (194 nations) decided that children have basic human rights and begin signing the International Rights of the Child Treaty.  Under this document, children are to have the rights to education, safety and well being including not to be made soldiers, not to be enslaved).
America is the only nation that has not signed that agreement, largely because we still demand that southern states continue to militarize youth as young as eleven, through military schools.
All children have the rights guaranteed by the Convention, without discrimination of any kind.
"The child shall enjoy all the rights set forth in this Declaration. Every child, without any exception whatsoever, shall be entitled to these rights, without distinction or discrimination on account of race, color, sex, language, religion, political or other opinion, national or social origin, property, birth or other status, whether of himself or of his family."
These rights are:
Development with dignity
A name and nationality
Access to food, housing, and medical care
Special care if handicapped
Love and understanding
A free education
Care in dangerous situations
Peace, love, and friendship
Please share this widely
Sample 4 minute video of Kids At Risk Action talk on child protection in America (invite KARA to speak at your conference – Mike@invisiblechildren.org )
Supoort KARA's TPT Documentary Project with your gift  Chose Kids At Risk Action at Amazon Smile (they donate to KARA out of your online purchases)