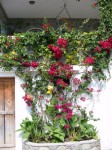 From the National Center On Family Homelessness;
California has over 500,000 children children lacking stable housing.
35% of Mississippi's children live in poverty.
Arkansas, Alabama, & New Mexico have the next highest rates of child poverty and homelessness in the nation.
Homelessness leads to mental health issues, crime, school problems (low performance and graduation rates).  Children in poverty with poor living conditions suffer from multiple stresses that last a lifetime.
No one wins when children that can't cope with their surroundings become adults that can't cope with their surroundings.  We all benefit when children can become productive members of the community leading healthy lives.  Read the report here.