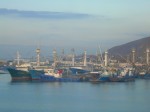 Please send KARA clips from your local news regarding child protection information in your state and please let me know if you are reading this from outside the U.S. and would like to see more news about child abuse and child protection issues from your community.
US: Will Supreme Court muzzle teachers in child abuse trials? (Commentary)
Staten Island Advance – October 06, 2014
On Thursday, the U.S. Supreme Court agreed to hear an appeal arising out of Ohio which, depending on how it's resolved, could eliminate a critically important method of proving child abuse.
http://www.silive.com/opinion/danielleddy/index.ssf/2014/10/will_supreme_court_muzzle_teac.html
US: Incarceration plays a major role in health and health disparities in the United States
Medical News Today – October 09, 2014
More than half of federal and state prisoners are parents of nearly 1.5 million minor children, and one-fifth of prisoners have children under the age of five. Children of incarcerated parents are more likely to have witnessed criminal activity and/or the arrest of the parent, both of which have been shown by researchers to have unique effects undermining children's socio-emotional and behavioral adjustment. Also: Empowering Our Young People, and Stemming the Collateral Damage of Incarceration: http://www.whitehouse.gov/blog/2014/10/08/empowering-our-young-people-and-stemming-collateral-damage-incarceration Information Gateway Resources: Children in Out-of-Home Care With Incarcerated Parents: https://www.childwelfare.gov/outofhome/casework/children/incarcerated.cfm
http://www.medicalnewstoday.com/releases/283562.php?tw
US: Childhood psychological abuse as harmful as sexual or physical abuse
EurekAlert! – October 08, 2014
Children who are emotionally abused and neglected face similar and sometimes worse mental health problems as children who are physically or sexually abused, yet psychological abuse is rarely addressed in prevention programs or in treating victims, according to a new study published by the American Psychological Association.
http://www.eurekalert.org/pub_releases/2014-10/apa-cpa100814.php
US: Ominous Trends in Foster Care
National CASA Association – October 08, 2014
For several years, CASA volunteers and staff around the country have been concerned about an ominous trend. Despite a general decline in the number of children in foster care, the family courts were requesting more volunteer advocates for more and more foster youth. Additionally, the children who had CASA and guardian ad litem advocates were coming from more challenging home situations. It is a sadly familiar pattern we have seen after previous recessions.
http://www.huffingtonpost.com/michael-piraino/ominous-trends-in-foster-_b_5948538.html
U.S. Law;US: SCOTUS to hear Ohio case, decide whether mandatory reporters are "agents of law enforcement" under Confrontation Clause
Lexicology – October 09, 2014
Mandatory reporter duties-which in most states apply to protect not only children, but also the elderly and/or disabled-vary widely across states. If the Supreme Court held that such a duty automatically makes one an agent of law enforcement, the term might cease to have meaning in the many states whose laws require members of the general public to report abuse. Gateway Resource: Mandatory Reporters of Child Abuse and Neglect: https://www.childwelfare.gov/systemwide/laws_policies/statutes/manda.cfm
http://www.lexology.com/library/detail.aspx?g=80edf087-76e6-4384-942b-11ec5feb9623
US: Number of children in the foster care system is on the rise 
Shawnee News-Star – October 12, 2014
The report, released by the Department of Health and Human Services, says there were 402,378 children in the foster care system nationwide in 2013, the most recent year in which data is available. These numbers are up from the previous year. Last year's report showed there were 397,000 kids in foster care in 2012.
http://www.news-star.com/article/20141012/NEWS/141019945
WI: Sharp rise in child-welfare cases affects county budget
Stevens Point Journal Media – October 08, 2014
Portage County government is looking to spend more money in 2015 to protect children, responding to a 63 percent increase in local child-welfare cases in just four years.
http://www.stevenspointjournal.com/story/news/local/2014/10/07/portage-county-child-welfare-cases-increase-percent/16888459/
CT: DCF's level of involvement a factor in child deaths, review says
Register Citizen – October 07, 2014
Child deaths in families involved with the state Department of Children and Families are more likely in cases where agency workers have spent less time assessing and interacting with parents, a preliminary review by the agency indicates.
http://www.registercitizen.com/general-news/20141007/dcfs-level-of-involvement-a-factor-in-connecticut-child-deaths-review-says
FL: Child welfare worker pleads not guilty to falsifying records for child killed
WESH – October 07, 2014
A child welfare worker who was responsible for checking on Rachel Fryer's children pleaded not guilty to falsifying records on Tuesday. FDLE officials said Irizarry wrote that the children were free from bruises, but investigators said they found a photo on Fryer's phone that showed Tariji with a bruised and swollen eye and one arm in a sling.
http://www.wesh.com/news/child-welfare-worker-pleads-not-guilty-to-falsifying-records-for-child-killed/28988708
FL: DCF foster care decision has fatal outcome
Miami Herald – October 08, 2014
When Florida child welfare administrators vetted Michael Beer's 2013 application to be a foster parent, they missed something: Two decades earlier, the same agency had "verified" an allegation that Beer failed to aid a 2-year-old girl in his care who suffered egregious child abuse: a cracked skull, broken arm, multiple bruises and welts and bruised ears. They gave him the license. Beer's run as a foster parent ended tragically last week when police in Port St. Lucie charged him with first-degree murder and aggravated child abuse.
http://www.miamiherald.com/news/state/article2629551.html
FL: Group wants DCF to give up child protection oversight
The News Service of Florida – October 08, 2014
An advocacy group today called for the Florida Department of Children and Families to relinquish its oversight of child-protective services to local law enforcement or other agencies following last month's mass murder-suicide involving six children in Gilchrist County.
http://tbo.com/news/florida/group-wants-dcf-to-give-up-child-protection-oversight-20141008/
MA: Fact checking Baker, Coakley's records on child welfare
The Boston Globe – October 08, 2014
Problems past and present in the state child welfare system have suddenly become the main flashpoint in the governor's race.
http://www.bostonglobe.com/metro/2014/10/08/debatecheck/DJuhDGMLkOmkvyFeVWvHiJ/story.html
NV: Clark County's child welfare system is 'broken'
Las Vegas Tribune – October 08, 2014
The public had its first chance Tuesday to go before a newly organized panel to speak out in support of or to recount problems they have encountered with the child welfare system. There was a unified, undisputed message: The child welfare system is "broken."
http://lasvegastribune.net/clark-countys-child-welfare-system-broken/
US: Children As Young As 11 Months Old Are Being Jailed In Texas
Business Insider – October 10, 2014
More than 500 women and children are currently detained by Immigration and Customs Enforcement (ICE) in a for-profit detention center in Karnes City, Texas. Six hundred more are held in Artesia, New Mexico.
http://www.businessinsider.com/women-and-children-as-young-as-11-months-old-are-being-jailed-at-the-border-2014-10
TX: Travis Co. prosecutes less than half of child abuse cases (Video)
KVUE – October 17, 2014
Child Protective Services confirmed 233 victims of sexual abuse and 418 victims of physical abuse last year in Travis County, yet the district attorney's office prosecuted just a fraction of the cases.
http://www.kvue.com/story/news/local/2014/10/16/travis-co-prosecutes-fraction-of-child-abuse-cases/17382151/
TX: Report: Foster Care Reforms Will Cost More Money
The Texas Observer – October 16, 2014
Texas is pushing ahead with controversial reforms to the scandal-plagued foster care system despite a recent report that the overhaul is over budget.
http://www.texasobserver.org/report-foster-care-reforms-will-cost-money/
FL: Scott claim of fewer child abuse deaths questioned
Associated Press – October 15, 2014
Republican Gov. Rick Scott repeatedly tells voters that abused and neglected children are safer under his leadership than when his Democratic opponent Charlie Crist was governor, but an Associated Press examination of that claim shows that campaign claim may be an exaggeration.
http://www.wral.com/scott-claim-of-fewer-child-abuse-deaths-questioned/14079721/?comment_order=forward
NV: Clark County disclosure in foster child killing reveals little
Las Vegas Review Journal – October 14, 2014
The disclosure, released Tuesday afternoon after being filed with a state agency, indicates that Child Protective Services had no prior referrals for the toddler's foster parents. The Clark County Department of Family Services received a referral about Momox-Caselis on Aug. 2, 2013, alleging neglect, according to the disclosure.
http://www.reviewjournal.com/news/las-vegas/clark-county-disclosure-foster-child-killing-reveals-little
GA: Foster care in crisis: Too many kids, too few homes: Caseworkers spread thin as rising need overwhelms system
Gainesville Times – October 12, 2014
Foster care is in crisis in Hall County. At any given time, there are around 180 children in the system, but only 25 foster homes. This means many kids are sent to homes outside the county, away from their families, friends and schools – disconnected from their communities.
http://www.gainesvilletimes.com/section/6/article/105199/
MN: Hennepin County judge 'sickened' by abuse program's failures
Find Law – October 12, 2014
That program, called "family assessment," has become the main method for protecting Minnesota's children. Rather than investigate and punish a child abuser, social workers offer services intended to strengthen families and keep them together.
http://legalnews.findlaw.com/article/57ba62210ae6fe75c5edad5732939ce8
What happens when a child abuse report is made in Minnesota.
Roll over a circle to learn how often counties decide to pursue a report to determine if a child is safe, whether child protection investigates the report and how often children are re-reported for abuse.
The possible paths one of the 67,888 reports filed with Child Protective Services can take:
Screened Out 71% (four MN counties screen out 90% of all reports)
17% Repeat Reports, After family assessment, children reported as abuse or neglect victims are the subject of new reports within 12 months.
14% Repeat Reports, After an investigation, children reported as abuse or neglect victims are the subject of new reports within 12 months.
Source: Department of Human Services Child Welfare reports, Star Tribune analysis, based on 2012 and 2013 data.
Note: Some totals add up to more than 100 percent due to overlapping responses.