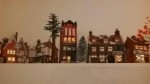 Friends of  Kids At Risk Action, board member Tiffini Flynn Forslund & I present our INVISIBLE CHILDREN talk at the Critical Thinkers Club in Stillwater Monday night April 14th at 7pm.
The meeting is held at the FamilyMeans Bldg., 1875 Northwestern Ave (opposite the Stillwater Water Tower). Here are driving directions:
From Minneapolis/St. Paul, take I-35W or I-35E north to Hwy. 36 East, or I-94 east to I-694 north to Hwy. 36 East. From I-694, it's about 5 miles to the only overpass (Hwy. 5) over the highway. Take a left at the first traffic light after the overpass (Washington Ave.), immediately turn right on the frontage road and go one block to Northwestern Ave. (Wells Fargo bank). Turn left; about a block ahead you'll see a big water tower on the left, and FamilyMeans is across the street from it on your right.
Please note that Highway 36 is undergoing reconstruction in Stillwater, so be prepared for delays or detours.
6 million children are reported to child protection services in the U.S. each year  Only a fraction of these children receive the help they need to lead productive lives.  Help KARA change this.   KARA TV interview at Catherine's Crossings.