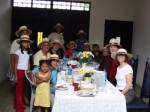 As a long time CASA guardian ad-Litem who finds it impossible to believe that the depth and scope of child abuse in my community (both local and national) is largely unspoken until some poor child is found in a dumpster or has his brains bashed out against a wall by a caregiver, I am excited by the efforts to quantify these sad facts by Safe Passages For Children.
It is precisely because we don't keep track, or if we do, don't publish the mountain of unhappy things happening to our children.  If these things were recorded, reported, and discussed, our institutions could function more effectively and children would be much safer and happier.
What follows is a major effort by Rich Gehrman and Safe Passage For Children to identify the tip of this iceberg (thank you Rich and company)
Please sign our petition for safe and healthy MN children (even if you are not from MN)
Petition to make health, education, and well being available to all MN children   
COURT PERFOhttp://safepassagemn.com/wp-content/uploads/2014/03/Study-of-Maltreated-Children-and-their-Families-in-Juvenile-Court.pdf
U of M/Safe Passage Research to be Published
Research on Hennepin County child protection cases by the University of Minnesota Institute of Child Development and Safe Passage for Children has been accepted for publication by the Children and Youth Services Review.
Key findings include:
36% of children experience additional maltreatment after being placed under protective supervision by the courts
29% of cases are closed while the children are still in high risk situations such as continued serious substance abuse by the parent
Only 5% of cases lead to Termination of Parental Rights or adoption, reflecting pressures to return children home almost at any cost
These and related findings confirm that many children are left in abusive situations for prolonged periods without effective help from child welfare.
Next week:  More highlights from future papers based on this research.
More Highlights from U of M/Safe Passage Research
Last week we shared research accepted for publication on Hennepin County child protection court cases ('CHIPS'), which we conducted with the University of Minnesota Institute of Child Development.
More findings will be presented in future articles, including:
66% of children 2 months or older had prior Child Protection Services (CPS) involvement
Of these :

Average time between first involvement and current CHIPS case was 47 months
The longer between first involvement and current CHIPS petition the more new types of maltreatment children suffered

76% of children were left in risky situations by the county or court during current or previous CPS cases
81% of family preservation attempts failed to extent that child had to be removed again
These findings again show consequences of keeping children in abusive settings.