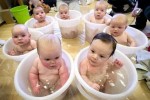 Today's Star Tribune article reports the death of White Bear Lake's unnamed 8 month old baby boy due to smothering by drunken mom.   Freda Perdue had been reported twice for child neglect for the same behavior.  Star Tribune reporters called me a few years ago when the 18 month old baby was drowned in the bathtub after 12 calls to the home.
Like most baby homicides, we blame the mom and the child protection system that screened out children endangered by dangerous parents.  This solves nothing.  In a few months, a baby will be found in a dumpster and the mom will be incarcerated, the social worker fired.
This repeats itself in every state on a very predictable schedule.  One of my first cases as a CASA volunteer guardian ad-Litem I witnessed a prostituted seven year old (by her mother) left in the home through 48 police calls to the home over a two year period (she was removed from her mom on the 49th call.
Where there is no public will, there will not be public resources to care for other peoples children.  
White Bear Lake mother charged with neglect in baby's death
Article by: NICOLE NORFLEET , Star Tribune
Updated: February 21, 2014 – 8:16 PM
A White Bear Lake mother faces charges after her 8-month-old baby was found dead on a mattress sleeping with several other children.
Freda Perdue, 33, was charged Friday in Ramsey County District Court with child neglect and child endangerment.
According to the criminal complaint:
Police were called last Saturday to the East Metro Place in White Bear Lake on a report of a male infant who was not breathing.
read the entire article at the link above (I do not have permission to post the entire Star Tribune article).

Nicole Norfleet • 612-673-4495