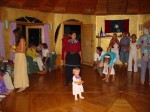 8 month old Brandon Schaible died of treatable pneumonia because his parents don't believe in medicine.
This is not as rare as one would hope.  In Idaho, 144 children have died in the Followers of Christ Church due to lack of medical care.  Religious shield laws are everywhere  – does your state have them?
Idaho makes it legal to deny children medical care (including to death).  In Oregon 15-month-old Ava Worthington. 16-year-old Neil Beagley. 8-month-old Alayna May Wyland. 9-hour-old David Hickman died that way.  Below are articles and law related to child death due to religious practice.
Support Kids At Risk Action & Purchase Amazon Kindle Invisible Children Ebook for 2.99 (support KARA) or Printed Book $16.95
(invite me to speak at your conference) / Buy our book or donate  Sample 4 minute video of Mike's awesome talk on child protection in America.
In Idaho, 'Faith-Healing' May Have Killed More Children Than We Ever Suspected
We've heard the stories of those poor children in Oregon who died after their parents, on account of their religious faith, refused to take them to doctors. The kids died from preventable causes because their health was put in God's hands instead of the care of those who knew what they were doing. (And existed.)
15-month-old Ava Worthington. 16-year-old Neil Beagley. 8-month-old Alayna May Wyland. 9-hour-old David Hickman died that way.
And now, Dan Tilkin, a reporter at KATU in Oregon, tells us he went one state over, to Idaho, and stumbled upon several more children who were killed because of their parents' neglect and faith.
A former member of the Followers of Christ [Church] advised [Tilkin] to go to Peaceful Valley [Cemetery] and look for two specific names.

He found them. He found many more.
Nearly a dozen more, in fact. Some of them died of pneumonia. (Pneumonia! In thisday and age!) Tilkin even visited the parents of one of those kids, Rockwell Sevy. That encounter didn't go so well:
"What I will talk to you about is the law," Dan Sevy said. "I would like to remind you this country was founded on religious freedom, and on freedom in general. I would like to say, I picture freedom as a full object. It's not like you take "a" freedom away. It's that you chip at the entire thing. Freedom is freedom. Whenever you try to restrict any one person, then you're chipping away at freedom. Yours and mine."

That was that. Sevy didn't want to talk any more about it.

"I told you I'm not going to do that," he said. "You don't understand the full story, and I'm not going to stand in front of a camera and give you the whole story. It's just not going to happen. I see the way these things get edited out.

"All I see is an aggressive campaign against Christianity in general, it's amazing to me in this day and age where Muslims get soft pedaled and Christians are under attack. It just blows my mind."
These families are almost all members of Followers of Christ churches, which teach that prayers, not doctors, fix your health problems.
So is there any way to fix this travesty? Yep. Oregon already did. They passed a law that removed faith-healing as a defense for parents whose kids die. God is no longer an excuse for their negligence.
Idaho, on the other hand, has no such law. As it stands,
The practice of a parent or guardian who chooses for his child treatment by prayer or spiritual means alone shall not for that reason alone be construed to have violated the duty of care to such child.
That's just unacceptable. And it's unlikely to change anytime soon, given that the Idaho House and Senate are dominated by Republicans.
I wouldn't care so much if these parents were trying to heal themselves through prayer. But when they kill someone else because of their beliefs, they shouldn't be let off the hook. God is not a "Get Out of Jail Free" card.
In the meantime, this Facebook group dedicated to the victims will just keep posting premature obituaries until Idaho politicians find the courage to take some action.
(Thanks to Gil for the link)
MARSING, Idaho (KBOI) – Peaceful Valley Cemetery sits outside Caldwell. Members of the Followers of Christ Church bury their dead here.
It looks like any other final resting place until you take a closer look. Out of the 553 headstones here, 144 mark the graves of children, that's 25 percent
Ada County Coroner Erwin Sonnenberg has done autopsies on children in this church dozens of times.
"How could somebody allow that to happen you know to their child when they could be taken care of so easily?" Sonnenberg said.
The children were born into the Followers of Christ, they didn't choose it. There are four churches around the valley and members refuse medical care. They rely exclusively on faith healing.
Some of the recent child deaths are Arrian Jade Granden, she was 15 years old. The autopsy report shows she got food poisoning and vomited for three days. Eventually her esophagus ruptured and she died of cardiac arrest.
Then there's Garrett Dean Eels. He died of pneumonia at just six days old. Cooper Shippy almost made it to 2 years of age. He died of complications from Type 1 diabetes. There are six more children we know of who've died here in the valley since July of 2011.
"It's very hard thing to deal with knowing one trip to the doctor and the child would be living today and be breathing and be fine," Sonnenberg said.
The problem, according to Sonnenberg, is that Idaho has religious shield laws on the books that protect parents who withhold medical treatment from their child. Prosecutors have no recourse even whenthe child dies.
Under Chapter 15 (Children and Vulnerable Adults) of Idaho's Crimes & Punishments statutes, 18-1501 states "Any person who willfully causes or permits a child to be placed in a situation that its person or health is endangered could spend 10 years in prison." But it also says: "Prayer or spiritual means alone shall not for that reason alone be construed to have violated the duty of care to the child."
"Children don't have that right and so it seems to me there should be some legislation or protection in those areas," Sonnenberg said.
There's another law where faith healing is codified.
Chapter 16 (Child Protective Act) under Juvenile Proceedings, 16-1627 says: "The court may step in and authorize medical care if the parents won't and a doctor petitions for it." But it also states: "The court must take into consideration any treatment given the child by prayer through spiritual means alone."
"We're dealing with a parental right. It concerns me anytime that a parent wouldn't get the best care for a child and that's why we have 16-1627," said State Senator Fred Martin, Health and Welfare Committee member of Boise.
The laws on the books tie prosecutors' hands. They can't even go for neglect in these cases. The only way to stop more children from dying appears to be to change the laws.
"I would be concerned about the state getting involved in religious practices, at the same time i want the state to protect its children and provide the best care for them," Martin said.
"It's religion and we're not dealing with a worldly concept, we're dealing with really is a faith concept and you're dealing with their eternity," said State Representative Christy Perry of Nampa.
Representative Perry is a Nampa representative and the Vice Chair of the House Health and Welfare Committee. She's aware of the issues surrounding faith healing.
"You can't tell me they don't love their children, you can't tell me they don't protect their children in as many ways as they possibly can. It's just that when it comes down to this one particular part, for them eternity hinges on it. They're going to go on the side of eternity and not on the side of our laws. It's really hard to ask somebody to give up your eternity to fill a statute," Perry said.
For the children already buried at Peaceful Valley Cemetery it's already too late. The question is, are our lawmakers willing to introduce and advance legislation aimed at protecting children in faith healing churches?
"I'm not ready to go there at this time, I understand what you're saying, I'm very, very concerned about a child. We're weighing the rights of the parents and the parents religious beliefs. I would hope they would not be in conflict," Martin said.
"I'm just not willing to force people to give up their eternity to satisfy what I personally think they should satisfy. That's a tough call for me. I'm sure I'm not going to be very supportive of it, there are just bigger issues at hand actually," Perry said.
Here are articles about faith healing child deaths over the last few years;