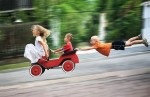 2014 CALIFORNIA CHILDREN'S REPORT CARD – The Report card released by Children Now rates the state according to 27 total categories in the areas of education, health and child welfare.  CATEGORY SUBCATEGORY GRADE
EDUCATION 
Infant and toddler care D
Preschool C+
Kindergarten transition B- 
Children's savings accounts D
K-12 investments D
School finance reform B-
Common Core Standards B-
STEM (Science, Technology, Engineering and Math) D+
Teacher training and evaluation D
Expanded learning B+
Linked learning B
Innovation and technology D+
School climate and discipline C-
Chronic absence C+
HEALTH
Developmental and Behavioral Screenings C-
Home visiting D
Health insurance B+
Oral health D+
Health care access C-
Health homes and care coordination C-
Mental health D
Obesity C-
School-based health services D+
CHILD WELFARE
Education of foster youth D-
Health of foster youth D+
Family preservation and reunification D+
Stability and permanency C
SOURCE: California Now
The complete report is available by visiting www.childrennow.org/2014-RC   The report points out that in 2010, California's per-student spending was $3,500 below the national average. And between 1995 and 2014, per-student spending increased 19 percent, from $6,971 to $8,304, while spending per prisoner ballooned 82 percent, from $32,933 to $60,032.