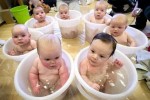 Clarence Carter the Director of AZ Department of Economic Security told the oversight committee that child protection was suffering from lack of funding and resources and has been only investigating the worst of the worst cases.
Skyrocketing case loads and very late (too late in many cases) review of unexamined reports of child abuse make it extremely hard to keep children safe in Arizona, a state that ranks 48th in child well being.   Read More to see the huge pile of AZ child protection case histories documents discarded in an alley (a very bad sign for AZ's abused and neglected children).
(invite me to speak at your conference) / Buy our book or donate  Sample 4 minute video of Mike's awesome talk on child protection in America
Follow us on Twitter http://twitter.com/KidsAtRisk  Share This Blog 

Arizona To Review More Than 6,000 Neglected Child Abuse Cases
By BOB CHRISTIE 11/26/13 01:03 AM ET EST

PHOENIX (AP) — An Arizona government official says his department will review more than 6,000 unexamined reports of child abuse and neglect by Dec. 2.
The director of the Department of Economic Security, Clarence Carter, also said in a plan submitted Monday night that all reports forwarded to case workers will be investigated by Jan. 31.
Carter sent the plan to members of the Legislature's Child Protective Services oversight committee.
Carter revealed the problems with the botched cases last week and was grilled by members of the oversight committee on Thursday. He told the committee he would deliver the plan by "the close of business" Monday.
Child advocates have said that the debacle in Arizona reflects a common problem nationwide as child protective agencies are burdened with high case loads, lack of funding and dismal resources that force social workers to prioritize calls based on the most egregious reports.
Still, the reports need an initial review to determine whether they are worthy of investigation, said Michael Petit, president of the advocacy group Every Child Matters and former commissioner of Maine's Human Services Department, which oversees child protective services.
"They can't just park them and say we're really busy and put them aside," Petit said Monday.
Carter has identified a number of Child Protective Services staffers who will be assigned to investigate the cases, department spokeswoman Tasya Peterson said earlier Monday. An exact number of staffers hasn't been determined, but Gov. Jan Brewer has approved using overtime for the urgent job.
So far, authorities re-examining the cases have identified at least 125 in which children were later alleged to have been abused. No deaths have been connected to the lapses.
Brewer added 200 new CPS positions in her budget this year to help the agency deal with skyrocketing case loads.
Meanwhile, state police are reviewing how the mistakes occurred. A captain, sergeant and four detectives will have their caseloads reassigned and focus only on the CPS investigation.
The investigation is designed to determine who authorized the cases to be designated as "not investigated" and to review the department's policies. It is administrative in nature, and any findings of potential criminal actions would be handled by another team or agency, Department of Public Safety spokesman Bart Graves said.
State law requires that reports phoned into a child abuse hotline be investigated. Yet beginning in November 2009, some cases were closed before being sent to a field office for investigation by a team of specialists trying to clear a backlog, Graves said.
The practice was suspended, briefly renewed the next year, and suspended again.
However, beginning about 20 months ago, a new team designed to help the agency overcome an ongoing backlog revived the practice. More than 5,000 of the 6,000 cases that were not investigated happened since that time.
Law enforcement agents assigned to the agency's child welfare investigations unit discovered the closed cases in recent weeks.
Carter has said cases were pulled before they reached field investigators based on a review by a special team whose goal was to focus field investigators on the most serious cases.
Petit suggested the agency just had too many cases to handle.
"When you've got 6,000 backlogged cases, that's not a function of a lot of people goofing off," he said.
However, Petit added, the problem won't be easy to address without a huge increase in staff at the Arizona agency, and the issue will be compounded as calls keep coming.
"If they're going to do a retroactive on these 6,000 cases," he said, "they're going to have the same problems six months later if they don't address the problem that led to this in the first place."
Some Democrats have called on Carter to resign. But Brewer, a Republican, is standing by him — for now.
"Once we know what happened, then accountability will take place," Brewer spokesman Andrew Wilder said.
___
Associated Press writer Brian Skoloff contributed to this report.
FOX 10 EXCLUSIVE
PHOENIX (KSAZ) — Confidential Child Protective Services documents were found dumped in a Phoenix alley — exposing private and sensitive information about children and parents involved in CPS investigations.
The agency is trying to figure out why a case worker's files were mishandled and exposed this way.
CPS is already under fire for not investigating 6,000 cases of child abuse and now the agency is trying to figure out how the confidential files of cases that were investigated ended up just thrown out in the trash.
Thousands of pages of CPS documents, involving dozens of children and parents — containing the most sensitive and detailed information on cases of child abuse and neglect — all of it left outside in a cardboard box next to a dumpster in a Phoenix alley.
The man who found it doesn't want to show his face, but he says he called FOX 10 when he realized how serious this private information was.
"Once you look at it.. besides people's social security numbers, the information is a lot more damning information than that," he said.
Looking through the thick stack of papers, it was shocking to see how much information was just left out in the open.  Along with social security numbers, phone numbers, addresses, there are medical records, psychological exams — even photos.
And then perhaps most disturbing of all — detailed reports of child abuse and neglect, showing a timeline of CPS case workers involvement — all of it going back several years.
The man who found it knows how serious this breach of privacy is.
"Well they should be happy I found it and you know.. somebody else could have done something more with it," he said.
It's not clear exactly how all of this ended up left out in the open for anyone to see.
CPS statement to FOX 10:
"The Department of Economic Security is extremely concerned about this report. Child Protective Services never disposes cases in such a manner as it is not only against policy and procedure, but prohibited by state and federal law. This is clearly a breach of confidentiality and the Department is investigating further to ensure strict enforcement of privacy and confidentiality laws. Anyone found to be involved in wrong doing will be held accountable in accordance with the law."
A representative from Child Protective Services came to the FOX 10 newsroom to pick up the documents and he promised they will work to get to the bottom of how this all happened.
The man who originally found the documents in the alley says he gave them to us in light of the recent CPS controversy involving uninvestigated cases.  He wanted to make sure this issue was given attention and something was done about it.
Read more: http://www.myfoxphoenix.com/story/24079777/2013/11/26/cps-documents-found-dumped-in-alley#ixzz2lzA7YZE5
Shattered Dreams: Jan Brewer's Arizona fails to investigate 6000 cases of child abuse
SHATTERED DREAMS: JAN BREWER'S ARIZONA FAILS TO INVESTIGATE 6000 CASES OF CHILD ABUSE
FRIDAY, 22 NOVEMBER 2013 21:57
NO COMMENTS
The latest shocker from Arizona: The agency charged with protecting Arizona's children  has failed to investigate 6,000 cases of alleged child abuse since 2009, The Arizona Republic reports.
This was embarrassing news for Arizona's Gov. Jan Brewer, attending a GOP governor's conference in Scottsdale.
Gov. Brewer voiced immediate outrage.
"This is absolutely unacceptable," she told the Republic.
Next, she  issued a statement on her website: "As governor and as a mother, safeguarding Arizona's children has been a top priority of mine. That's why it is not only heartbreaking, but unconscionable to find out that thousands of cases within CPS have gone uninvestigated potentially involving vulnerable, abused and neglected Arizona children. This is absolutely unacceptable."  
You can read the entire statement here. 
But the governor cannot distance herself from this tragedy — the institutional negligence  happened under Brewer's watch.
The Republic reports that the cases were not investigated from 2009 to now. Brewer took office in January 2009. She is in office now.
" Of the 6,000 reports, 5,000 have come into the state hotline in the last 20 months," the Republic tells us.
Under Brewer's watch, Arizona  has funded private prisons it doesn't need because a Brewer advisor was once a prison lobbyist. The state has spent millions defending a failed immigration law, SB 1070, that was ultimately deconstructed by the courts.
But Arizona failed to adequately fund the Arizona  Department of  Economic Security's division of child protective services, which is overworked and understaffed and demoralized.
Which brings us to Juana Hernandez, my young friend.
Juana wanted to be a CPS caseworker, and is qualified, with her ASU degree in Psychology, to be a CPS caseworker. She has a great good heart and  an incredible work ethic, and CPS was very interested in hiring her earlier this year  – until she told the agency she didn't have a driver license. Reluctantly, CPS  had to skip over this qualified candidate who actually wanted to work at CPS. 
That's because Juana was born in Mexico, and for a long time she was an undocumented immigrant, having crossed the border illegally as a little girl with her mom and sister.
Before she applied to CPS, Juana had received her immigration papers and work permit through President Obama's administrative order granting "deferred action to childhood arrivals" or DACA. You get DACA  if  you were brought to the U.S. illegally as a child, you've graduated from high school or are in high school, you are not a criminal, you are under the age of 31, you have been in the U.S. for a long time and you came here before you were 16, and you want to work, serve in the military or pursue higher education. You have to renew DACA every two years. It isn't  amnesty, but it gives people like Juana a chance to work legally in the U.S.
But when Obama announced the DACA program in 2012, Brewer said people like Juana were "illegal people."
Brewer, however,went to court to ensure that college-educated  bilingual Juana (and thousands of other young adults  with work permits and Social Security numbers and legal presence in the U.S.) can't drive in Arizona. Thanks to Brewer's court battle,  Arizona is now one of only two states that denies DACA recipients driver licenses.
Unable to drive, Juana the college graduate stays home with her two kids and sells Amway products.
I'm not saying Juana could have prevented the massive CPS negligence, but with her education, heart and work ethic, she would have improved the culture at CPS, and would have helped the fragile, abused children who crossed her path. She would not have neglected a single case of alleged child abuse brought to her attention.
If only Jan Brewer had let her drive.
Next;The activists from Citizens for a Better Arizona are all over Child Protective Services and the agency's failure to investigate 6,000 claims of neglect and abuse.
In addition to making frequent made-for-TV trips to the Department of Economic Security (the parent agency of CPS) and Governor Jan Brewer's office, CBA's also looking at taking legal action over the debacle.
See also:
–Child Protective Services Failed to Investigate Thousands of Allegations

CBA President Randy Parraz posted on Facebook seeking child-abuse victims (or more likely, their families) whose abuse was reported to the hotline, but not investigated within seven days, to file a lawsuit.
Before the CPS Oversight Committee meeting last week, Maricopa County Attorney Bill Montgomery repeatedly stated that CPS was required by law to investigate these cases it admittedly ignored.
Department of Economic Security Director Clarence Carter explained before this committee that the allegations were made over the CPS hotline, before a someone coded the cases "Not Investigated," or "NI," and were never passed on to CPS investigators. Nearly half of those allegations were made this year.
In an e-mail this morning, Parraz suggested possible criminal charges over the CPS failure:
"What we have here is a potential conspiracy among a number of actors at CPS who over a period of time participated in a systematic approach to consistently violate state law at the expense of child safety (see reference below). Gov. Brewer's reluctance to take swift action against Mr. Carter may be interpreted as promoting and aiding in the commission of some 6,000 offenses against children."
In the "reference below," Parraz attached the state law on criminal conspiracy:
13-1003. Conspiracy; classification

A. A person commits conspiracy if, with the intent to promote or aid the commission of an offense, such person agrees with one or more persons that at least one of them or another person will engage in conduct constituting the offense and one of the parties commits an overt act in furtherance of the offense, except that an overt act shall not be required if the object of the conspiracy was to commit any felony upon the person of another, or to commit an offense under section 13-1508 or 13-1704.

B. If a person guilty of conspiracy, as defined in subsection A of this section, knows or has reason to know that a person with whom such person conspires to commit an offense has conspired with another person or persons to commit the same offense, such person is guilty of conspiring to commit the offense with such other person or persons, whether or not such person knows their identity.
Last week, Carter promised to have a plan of action no later than today, but at the time of this post, we sure hadn't seen it.
It's already been more than a week since the problem was discovered.
Send feedback and tips to the author.
Follow Matthew Hendley on Twitter at @MatthewHendley.