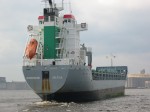 Tiffini and I enjoyed your groups all out participation in our Saturday KARA presentation immensely.
More questions were asked than answered (always a good sign) and there was a powerful feeling that better answers were important to this group.  We covered a great many of the thorniest questions facing at risk youth and our communities attempts to improve the programs and policies that impact their lives.
Please encourage your membership to continue the conversation with us at this site in the future.
And of course, let's do that again some day.
MikeT
(invite me to speak at your conference) / Buy our book or donate
Follow us on Twitter http://twitter.com/KidsAtRisk  Share This Blog