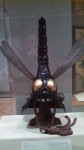 My 2012 report about the last place in the nation to raise a child was reaffirmed today (Huffington Post) with another study ranking the state dead last for women.  One in five Louisiana women live in poverty & they earn 67% of what men earn (a little more than half of a man's wage).
One OB-GYN for every 13,136 women & nearly 20% of non-elderly women are uninsured.  Waiting periods and counseling are required for women seeking an abortion.  Louisiana has the highest rates of poverty, infant mortality, child death, teen births, and no health insurance in the nation.
Other states that earned an "F" overall in these categories are Utah, Oklahoma, Alabama, Mississippi, Texas, Arkansas, South Dakota, Indiana and Georgia.
Louisiana is also the Prison Capital of The World, where for profit prisons are making a fortune for their investors.  They have found that by offering almost no rehabilitation, crowded conditions and easy incarceration statutes (one in eighty six adult Louisiana residents are in the prison system), profits are extraordinary and recidivism is through the roof.
Please share this with your contacts that it might find its way to Louisiana (change only comes from awareness).
Follow KARA on Twitter http://twitter.com/KidsAtRisk
Support KARA buy our book or donate (Invite me to speak)
Louisiana Rated Worst State For Women
Posted: 09/25/2013 9:56 am EDT  |  Updated: 09/25/2013 10:37 am EDT
Women in the United States earn an average of 
77 cents for every dollar that men make
, face many barriers to reproductive health care and are significantly underrepresented in leadership roles. But the worst state for women by far is Louisiana, according to a 
state-by-state examination
 of these issues released Wednesday by the Center for American Progress.
In terms of economic security, health and leadership representation, the analysis ratesLouisiana the lowest. Full-time working women in Louisiana earn only 67 percent of what men earn, on average, and more than one in five women and girls in Louisiana are currently living in poverty.
Only 12 percent of Louisiana's congressional seats are held by women, and the state has one of the top 10 worst maternal mortality rates in the country. There is only one OB-GYN for every 13,136 women in Louisiana, and nearly 20 percent of non-elderly women in the state are uninsured. Louisiana also requires an ultrasound, waiting period and counseling session before a woman can have an abortion.
The report also considered in its ratings the state's minimum wage, family leave policies, percentage of 4-year-olds enrolled in pre-K, the gender management gap and publicly funded contraceptive services. Other states that earned an "F" overall in these categories are Utah, Oklahoma, Alabama, Mississippi, Texas, Arkansas, South Dakota, Indiana and Georgia.
Women living in Maryland, meanwhile, have the best quality of life, according to CAP's analysis. The poverty rate for women in Maryland is 11.4 percent — three points lower than the national average for women — and full-time working women earn 85 cents for every dollar men earn. Only one in 10 women in Maryland is uninsured, and the state has no mandatory ultrasound laws, waiting periods or gestational limits on abortion.
Other states that earned an "A" overall for these categories include Hawaii, Vermont, California and Delaware.
Buffy Wicks, a senior fellow at CAP, said the report illustrates a need for laws at a state level that help raise women out of poverty, provide the reproductive and contraceptive health care they need and support the needs working mothers.
"This report shows the incredible power at the state level to improve the lives of women and families," Wicks told HuffPost. "Policies that support working families — such as an increased minimum wage and access to reproductive health services — make for a better quality of life for women."
See how your state ranks in this interactive map from the Center for American Progress:http://www.huffingtonpost.com/2013/09/25/worst-state-for-women_n_3984544.html
F
Published
on May 27, 2012
. 4 Comments EditTags: casa, charles blow, child abuse, child neglect, child protection, guardian ad-litem, invisible children, juvenile justice, kara, kids at risk action (kara), mike tikkanen, plantations prisons and profits, public speaker, public speaking.
Born into the highest rates of poverty, infant mortality, child death, teen births, no health insurance, juvenile incarceration,&  imprisonment,  Louisiana children stand a greater chance of misery & early death than any other state in America  (Geography Matters – Child Well Being In The States; Louisiana ranks 48th to 50th in almost all quality of life indices for children). 
Kids are better off in many 3rd world nations.
Last week's Plantations, Prisons, & Profits article by Charles Blow, identified Louisiana as the prison capital of the world, with 1 in 86 adult residents in the prison system (the vast majority for nonviolent offences).
The good news is that for profit prisons in Louisiana are making a fortune.  By offering almost no rehabilitation, crowded conditions & easy incarceration statutes (10 years for a bad check) means that capitalism has succeeded where slavery failed.
Leasing convicts as plantation labor was outlawed after the civil war.
Today, privatized prisons make more money milking the state for high per diem rates while ensuring low costs (minimal services) & legislators keep the prisons full (recidivism is 66% nationally and 68% in Louisiana) and Louisiana schools remaining at the bottom (of all 50 states) & the more money the state spends on incarceration, the less it can spend on preventive measures like education (According to Education Week's State Report Cards, Louisiana was one of three states and the District of Columbia to receive an F for K-12 achievement in 2012,and, this year, the state, over all, is facing a $220 million deficit in its $25 billion budget.)
This means nothing can change in Louisiana for a very long time.
If you can read this, and you are a poor child in Louisiana, beg your mother or father to take you to Arizona, Colorado, Utah, or almost any other state.  Your chances of reading at a third grade level, graduating from high school, not going to prison or becoming a preteen mom will be exponentially improved.  Please pass this on.
Follow KARA on Twitter http://twitter.com/KidsAtRisk
– See more at: https://www.invisiblechildren.org/2012/05/27/louisiana-children-dont-stand-a-chance/#sthash.0uiL4CDV.dpuf