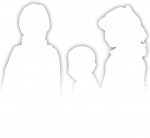 This has been a bad week in the news for babies in Ada and Champlin Mn as the Star Tribune filed reports about two separate & tragic baby deaths.
Reading these articles (below, or click the links) demonstrate that these are not isolated cases of violence and abuse, but repeated terrible burning, and beatings of babies that have only made the paper because the child died.
There's lot's more of this happening that we don't see. Without subsidized day care and crisis nurseries, babies are left with drunk uncles and cracked out boyfriends while mom is working or buying groceries.
In my work as a volunteer CASA guardian ad-Litem, I saw this kind of thing repeatedly.  In one instance, a baby was burned over half her body and in another case, because there was no subsidized daycare, the working father, who was a good man, had the state start proceedings to take his children away because he could not afford daycare.
Nobody wins in these situations; terribly abused children, destroyed functioning families, & a fortune in hospitalization and foster care.   StarTribune Local;
Minnesota man admits inflicting deadly injuries to 22-month-old girl
Updated: July 29, 2013 – 9:10 PM
A 25-year-old man admitted in court Monday in northwestern Minnesota to inflicting deadly head and neck injuries on the 22-month-old daughter of his girlfriend. Raul Perez, of Ada, pleaded guilty in Norman County District Court to second-degree murder in the death of Ariel Reyes last August.
Perez lived with the girl and her mother. A doctor at Sanford Medical Center in Fargo noted many injuries to Ariel, including bruises to her jaw, forehead, thigh, shoulder and the base of her spine. Also diagnosed were numerous severe brain injuries and bleeding at the back wall of an eye. Prosecutors said Monday that they will seek an upward departure from state guidelines when Perez is sentenced on Sept. 9.
Soon after Ariel's death, the mother told police of several months of abuse at the hands of Perez, according to the criminal complaint.
The abuse included the mother being lifted off the floor by her hair and being burned on her arm with a cigarette lighter.
Under police questioning, Perez denied shaking or striking Ariel and added that he also has never harmed his three young boys, the complaint added.
The complaint continued: Shortly before noon on Aug. 29, medics were called to the home in Ada and saw Perez attempting to revive Ariel with mouth-to-mouth resuscitation.
She remained unresponsive and died two days later at the hospital. Perez was looking after Ariel and her 5-year-old brother while his girlfriend was picking up groceries and putting gas in her vehicle. After paying for the gas, the mother saw Perez running down the street toward her, holding her son and saying that Ariel had stopped breathing and an ambulance had been called. Paul Walsh
Champlin police send baby death case to county attorney
Updated: July 29, 2013 – 8:50 PM
Champlin police have concluded their investigation into the February death of a 4-month-old girl that was ruled a homicide and have forwarded the case to the Hennepin County attorney's office.
The girl died Feb. 20, four days after police responded to a 911 call from the home. Also at the home at the time was the girl's twin sister, who was placed in protective custody. Last month, the Hennepin County attorney's office ruled the girl's death a homicide by blunt-force injuries to her head and brain. O
Hennepin County authorities have petitioned to have the parental rights removed for both parents. The petition said that both girls had suffered injuries. No arrests have been made in the case. PAUL LEVY