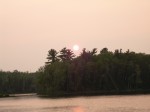 Much of the violence occurs in the home, and it occurs again and again and again.  That has also been my experience as a CASA volunteer guardian ad-Litem.
Most of the families experiencing violence in the home also report child abuse.  77% of children in high violence families were abused over their lifetime.  The effects last a lifetime.
Most children who witness domestic violence suffer from PTSD and go on to lead lives much like their parents taught them (unless they are lucky enough to have good daycare, crisis nursery access, and mentoring – fairly rare in America today).
Full report here; http://www.childwitnesstoviolence.org/facts–myths.html

Follow us on Twitter http://twitter.com/KidsAtRisk