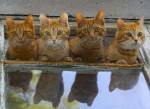 New York Ranks 44th in adoption of state ward children and 40th in moving children off of the state ward list (NY Times 1.27.13 SMALL SAVINGS, BUT CHILDREN PAY THE PRICE).
At a cost of about $666/per child, abused and neglected children have had a personal volunteer CASA voice speak for them in the cold, hard, underfunded institution that is child protection in New York City.  CASA graduates in New York City are half as likely as non CASA children to re enter the system (and a whole host of other positive measurements).
One state ward child could not  read in school until his CASA volunteer pointed out the boy simply needed a new prescription for his glasses.
From personal experience as a MN CASA volunteer, I can guarantee Governor Andrew Cuomo & NY that you will not be saving any money by eliminating funding for CASA programs.
In my public talk (4 minute video clip of my presentation) I point out how 3 families in my CASA volunteer case load have cost the county many millions of dollars by not providing basic services to children while they were young enough to save from the ravages of violence and abuse.
One of my CASA case boys alone has cost Hennepin County several million dollars (without counting the people he has stabbed, teacher he assaulted, lives he has crushed, or property he has destroyed). 
In his case, my county saved the money (under $500) it would have cost to complete a background check on the man who requested custody of his son while he was still in prison.
Dad had been incarcerated for the same crimes he was about to commit on his four year old son (violent sexual and physical abuse of very young boys).
There was a court order (reviewed years later) in an adjacent state forbidding that man to be in contact with young children.
This four year old boy had no CASA volunteer.  Instead, he was tied to a bed, sexually abused, beaten, and starved for four years at the hands of his recently paroled, violent, abusive father.
All for a savings of under $500.  This poor tortured young boy has cost my county and state millions to date.
Since he was 7 in 1996, he has been a state ward.
Today he has AIDS and is taking the most expensive drug therapy available.  He will remain a ward of the state in some form, until he dies.
New York is about to ax $800,000 from a program that provides 120 CASA volunteers that provide services to 1500 State Ward Children with the misguided thought that savings will occur.
We talk about valuing children in this nation, but this is not an example of that.   Some of us dealing with at risk children think it's statements about valuing children in America are just allot of hot air.  "What we do to our children, they will do to society" Pliny the Elder, 2500 years ago.
Please send this post to your friends and legislators and let them know that this sort of short term policy making insures fewer high school graduates, more prisons, and higher crime rates in already crime ridden and unhappy communities.
Let's make 2013 a better year for children; 
Inspire your campus or organization by motivating them to stand up for at risk children with Mike's Invisible Children keynote talk.  
Motivate your posse to fully appreciate the value of their efforts & commitment & give them tools to make better things happen for children in your community.
Contact me to start a conversation mike@invisiblechildren.org   Support Kids At Risk Action & Purchase Amazon Kindle Invisible Children Ebook for 2.99 (support KARA) or Printed Book $16.95
(invite me to speak at your conference) /Buy our book or donate  Watch Our Video
Follow us on Twitter http://twitter.com/KidsAtRisk  Share This Blog 
Small Savings, but Children Pay the Price; Gina Bellafante
BIG CITY
¶In 1853, Charles Loring Brace, a patrician reformer, devised a plan to remediate the circumstances of New York City's 30,000 homeless children, many of whom passed their days as desperate salesmen hawking rags and newspapers, and who had acquired the label, absent a world of ethnic sensitivities, of "street Arabs." Founding theChildren's Aid Society, Brace controversially arranged for abandoned children to be sent, by rail, to farm families — "kind, Christian homes in the country" as he put it, typically where they would work. By 1929, approximately 100,000 city children had been relocated across the country, often with no sense of where they would be going, in what became known as the Orphan Train movement and was the precursor to the American foster care system.
Elizabeth D. Herman for The New York Times
Peggy Grauwiler, the executive director of CASA in New York City, which may lose state financing.
Readers shared their thoughts on this article.
¶In the last quarter of the 20th century, child welfare evolved, both in theory and legislative practice, to place greater emphasis on the needs and interests of the child. Significantly, in 1977, a Seattle judge named David Soukup, who had become frustrated that the foster care system was not providing adequate representation for children in courts, organized a program called Court Appointed Special Advocates, or CASA, which trained volunteers to give children a voice in legal proceedings, and crucially to provide a holistic picture of the children's lives that would help judges make more informed decisions about the cases. Over time, CASA has grown to more than 930 branches across the country, and the role of volunteers has expanded.
¶Last week, in a proposed state budget otherwise admirably mindful of the needs of children, Gov. Andrew M. Cuomo eliminated CASA's financing in New York State for the coming fiscal year. This is particularly unfortunate given that, according to a 2009 study by the advocacy groupChildren's Rights, New York ranks 40th among states in how quickly it returns children home and 44th in terms of adoption.
¶CASA is hardly a social-services program to which one could attach an adjective like "bloated." The $800,000 a year the state was contributing was keeping CASA branches in operation across New York.
¶Now, the New York City affiliate is at risk of closing. City children make up 63 percent of the state's foster care population, and CASA in New York City had been receiving more than one-third of the state's financing.
¶It has managed to serve about 1,500 children a year on a budget of a little over $1 million annually, with Peggy Grauwiler, the executive director of CASA in New York City, performing many roles, including development chief.
¶The staff itself is tiny, with only two administrators and a small team of social workers spread across five boroughs; it depends on a network of 120 volunteers who each give 10 to 20 hours a month to help children struggling in foster care. When children move from foster home to foster home, they lack what is known in social-service parlance as continuity of care. In an overburdened system, there is often no one to notice changes in a child's behavior, or eating pattern or study habits. The CASA volunteer aims to be a consistent presence. Last year, when an 8-year-old boy in the Bronx who had been in the foster system for two years was having sudden difficulty reading, it was his CASA aide who figured out that he simply might need a new prescription for his glasses.
¶The burden of logistics — which consume hours, and for which caseworkers rarely have the time — is picked up by CASA volunteers and staff members, as well: finding parenting classes that a mother seeking to regain custody of her child can get to easily, arranging for siblings in different foster families to regularly see one another, connecting children with incarcerated parents whom the foster system has lost track of. CASA workers help children aging out of foster care with G.E.D. exams, homework and college applications so that they have a chance at going on to productive lives.
¶If you spend any time in family court, you begin to see how much — how many seemingly small things — is required to move a child's life along.
¶Last week, I attended a hearing in Manhattan involving an 18-year-old girl who had spent most of her life in the system. Her transition to adult life had been stymied by an inability to get a state identification card, for which she needed a birth certificate. It resided somewhere in Puerto Rico, and she had no idea how to access it.
¶CASA does not have grand finale goals; it does not set out to send forgotten children to the Ivy League. And for this reason, Ms. Grauwiler explained, fund-raising is difficult. It is hard to convey in a sound bite what is gained. Additionally, she said, a fair number of her individual donors had money tied up with Bernard Madoff, the man behind the largest Ponzi scheme in history, and, in recent years, the annual $1,000 and $5,000 checks she had come to depend on have fallen away.
¶Still, in 2011, for instance, 42 percent of CASA graduates in New York City were reunited with their parents; an additional 15 percent were adopted, half of those by relatives; and 4 percent went on to live independently. In a meta-study of CASA programs across the country, published several years ago in The Journal of the Center for Families, Children and Courts, researchers' most profound finding was that children with CASA support were half as likely to re-enter the system. The bad outcomes for children who spend endless years in foster care don't have to be recounted. But they ought to be quantified, so we can all remember how costly they are.
<nyt_author_id>
¶E-mail: bigcity@nytimes.com