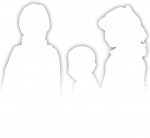 When I grew up in the 1950's, the media covered stories about old people living under bridges and eating dog food out of cans.
At that time, legislators were bombarded by concerned citizens repelled by the concept of decent, formerly productive  citizens forced into abject poverty and the horrid conditions that come with it.  This is when social security began to provide sustainable stipends to the aged.
My uncle Bud was a good example of how a small amount of money managed well provided a happy (if modest) lifestyle for the elderly.  Employed full time for all of his life, a former low waged baker for one of the local big bakeries, Bud never made more than 40 cents/hr (Margaret made considerably less as a hotel maid).
When he and his sickly wife retired in the 1970's, they still put their monthly bill money in envelops on the dresser, to make sure they had enough to pay everything, before they bought food, gas, or anything other than what they owed.
Because of the media's coverage of dog food eating seniors living under bridges, Bud and Margaret were able to live a clean, modest lifestyle and not die in the pain and disgrace of poverty, living in tents or under bridges.
Today, America has children living under bridges (lots of them).
The number of homeless students attending Duluth public schools jumped 21% this year (a statewide trend and worse in many parts of the nation).
Among the *industrialized nations, (the 24 nations with long established infrastructures and democracies) the U.S. ranks number 1 in child poverty with 23% of our children living in poverty.
Homeless children are 3 times more likely to be sexually assaulted than those living at home.  Homeless children find it much harder to succeed in school or in life and their delinquency & crimes rates are far higher than the general population.
There is not a religion on the planet that abandons children & those people claiming there is do not have real religion (point that out to them).
The economics of letting poor children fall through the cracks & not graduate, adds millions of soon to be dysfunctional adults, more crime, & long term pain and expense to our communities.
All of the ethical arguments, data, and financial calculations indicate that healthy children become healthy productive citizens (investing in children equals a healthy society).
Our society today is suffering terribly.  As Pliny the Elder stated 2500 years ago, "What we do to our children, they will do to society"
Let's do better things for our children.
Call your legislator, write a letter to the media, support subsidized daycare, crisis nursery centers, shelters for families, women, and children.  Help One Child lead a better life through your sustained actions.
Let's make 2013 a better year for children in America
Inspire your campus or organization by motivating them to stand up for at risk children with Mike's Invisible Children keynote talk.  
Motivate your posse to fully appreciate the value of their efforts & commitment & give them tools to make better things happen for children in your community.
Contact me to start a conversation mike@invisiblechildren.org   Support Kids At Risk Action & Purchase Amazon Kindle Invisible Children Ebook for 2.99 (support KARA) or Printed Book $16.95
(invite me to speak at your conference) / Buy our book or donate
Follow us on Twitter http://twitter.com/KidsAtRisk  Share This Blog 
Published December 11, 2012, 12:00 AM
Number of homeless students up 21 percent in Duluth schools this year
The number of homeless students attending Duluth public schools jumped 21 percent this year, coinciding with statewide trends, according to a study released today by the Minnesota Housing Partnership.
By: Candace Renalls, Duluth News Tribune
The number of homeless students attending Duluth public schools jumped 21 percent this year, coinciding with statewide trends, according to a study released today by the Minnesota Housing Partnership.
In tallies from July to September, the number of homeless students in Duluth reached 152, up from 126 last year. Those numbers have been building since 81 homeless students were recorded in 2008.
"The general trend is we've seen a clear increase in homelessness in children statewide, compared to several years ago," said Leigh Rosenberg, research and outreach manager for Minnesota Housing Partnership. "We're higher than several years ago. The combination of the recession and foreclosures crisis is putting many people into the rental market."
Low-income families are then faced with few vacancies coupled with high rents, she said.
"That's putting a squeeze on the rental markets in the state," she said, noting that little new construction of affordable rental units is relieving the pressure.
The number of Duluth homeless students was supplied by Deborah Wagner, the district's Families in Transition Program coordinator. She said the numbers are highest in the first three months of the school year when struggling families from outside the area move to Duluth during the summer and try to find housing.
Since those quarterly numbers were compiled, 100 more students have been recorded as homeless since July 1, bringing the number to 255 as of Monday, she said.
Student homelessness covers the spectrum from sleeping in cars, tents and shelters to stays in transitional housing. It includes some older students who are on their own, sleeping in teen shelters or on people's couches, she said.
The homelessness can last for days or months.
Part of the reason numbers are up dramatically is better record-keeping that now also includes families who are "doubling up" or temporarily living with other families or friends, Wagner said.
That has increased the numbers, along with the recession and people out of work, she said.
Wagner finds out about homeless students largely from social-service agencies that come in contact with the families, such as agencies running shelters, transitional housing or drop-in centers.
Most are single-parent, female-headed households, she said, including some who have fled abusive relationships.
"Many families don't want to move, but they will go anywhere where there is a shelter bed," she said.
The school district helps by making sure the children are enrolled, have transportation to school and are connected with school staff.
In its study, released today, the Minnesota Housing Partnership also found signs of improvement statewide in the housing market, including lower mortgage delinquency rates, a smaller inventory of homes for sale and more people working in housing construction.
It also found fewer foreclosures.
In the Duluth area, including St. Louis and Carlton counties, foreclosures continue to decline after reaching a high of nearly 700 in 2010. The first three quarters of 2012 had 447 foreclosures, down from 465 in the same period in 2011 and 546 in 2010, according to the agency's data.
U.S. Child Poverty Second Highest Among Developed Nations: Report
Posted: 05/30/2012 8:03 pm Updated: 05/31/2012 9:00 pm
A new report from UNICEF suggests it's possible. The latest edition of UNICEF'sreport on child poverty in developed countries found that 30 million children in 35 of the world's richest countries live in poverty. Among those countries, the United States ranks second on the scale of what economists call "relative child poverty" — above Latvia, Bulgaria, Spain, Greece, and 29 others. Only Romania ranks higher, with 25.5 percent of its children living in poverty, compared with 23.1 percent in the U.S.
The term "relative child poverty" refers to a child living in a household where the disposable income is less than half of the national median income. Many critics arguethat relative poverty isn't the same as real hardship, or absolute poverty.
But the report brushes that away. Poverty is "essentially a relative concept," it says. For example, a little more than a century ago, the wealthiest people in the world didn't have cars. It concedes, however, that the measurement has some weaknesses. First, a child's well-being doesn't always correspond to the parents' income. Second, comparing the relative poverty rates of various countries doesn't make sense unless the countries have similar median incomes.
Because of these weaknesses the report considers "child deprivation." To measure this, researchers produced a list of 14 items found in most middle-class households and counted the number of children whose families couldn't afford them. The list included Internet connection, new clothes, three daily meals, two pairs of properly fitting shoes, and "the opportunity, from time to time, to invite friends home to play and eat."
Ten percent of children in France lack at least two of these things, compared with a little more that 5 percent in the United Kingdom and less than 1 percent in Iceland. Romania lagged well behind most of the developed world, with nearly three-quarters of its children experiencing such deprivation. The U.S. didn't have enough data for a rating.
SEE: How does the U.S. compare to the rest of the world's industrialized nations in child poverty based on income? Story continues below.