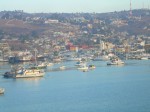 Wow, what a swell guy and great example for the rest of us; Andre bought $19,521 worth of Toys R Us gifts for children in Child Protective Services today.  Here's the link (you can see the very long receipt).
I like his message too;
"A lot of these kids get discouraged because of where they grew up and things like that. I grew up in a single-parent home and I was fortunate to achieve my goals. So, whatever goals you have, just keep them out in front of you, don't let anybody distract you away from them, because there will be distractions that try to detour you away from your goals. That's the biggest thing."
Pass this link on to your friends (it may give them ideas)
Let's make this a Happier Holiday season for kids in child protective services…. they really could use a boost.