October 1, 2015 in Crime and Courts, Politics and Funding, Public Policy by Mike Tikkanen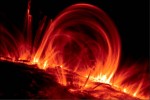 This article first appeared here in 2011.  It was true then, it is true today.
I received a call from a reporter at the Star Tribune to talk about mental health issues of abused and neglected children I had worked with as a guardian ad-Litem.
I forgot to tell him that well over 50% of the youth in juvenile justice suffer from diagnosable mental health issues, and fully half of those children suffer from multiple, chronic, serious problems.
The amount of psychotropic medications provided to very young children and juveniles is not in dispute, but the results are. Read the rest of this entry →